There are several reasons why jumpiness happens in dogs. Reaction to stimuli is a normal thing in all animals. However, jumpiness occurs only when there is an overwhelming reaction to a stimulus.
Fear and anxiety are the main triggers of jumpiness in dogs.
When your dog gets jumpy, it is essential to determine the cause of this hyperactive behavior because it is not normal.
To ensure if your dog is jumpy by nature or undergoing other issues, you need to be observant and patient. In no time, you will notice a pattern in its behavior that is triggered by certain factors.
What Is Making My Dog Jumpy?
As mentioned above, several things can make your dog jumpy, and all you need to do is be a little more observant to pinpoint what causes your dog's hyper-ness.
1. Stress And Anxiety
There are endless factors that could make your dog stressed and anxious. An anxious dog, just like all other animals, will project jumpiness.
It could be a change in the routine, its companion suddenly goes MIA, fear of separation from its master, or even illness can make you do jumpy.
2. Pain
It is true that when dogs are in pain, be it physical or internal, they tend to act jumpy.
Your dog might be experiencing dental pain, pain from an injury, among others. There is no determining for a fact which pain is making your dog jumpy unless you consult with your vet.
3. Environmental Causes
There are harmless things around us that unknowingly make your dog both anxious and jumpy. A sudden loud doorbell, for example, can be scaring your dog out of its wits. Any sudden shrill, loud noises do not affect the dogs alone; it sometimes shakes us to the core.
Imagine what a loud bang out of blues would do to you. Well, that goes the same for your dog.
4. Hearing And Vision Impairment
If your dog is having trouble with its hearing or vision, it will get startled all the time. Your dog will be extremely nervous and insecure before it finally adapts to these physiological changes.
Also, trying to be on guard for anything unanticipated when your dog experience physiological impairment can make them extremely jumpy, even to the point of being aggressive.
5. Physical Threats
When your dog spots a threat that they think is a potential danger to itself and the master, it will act jumpy because it does not know how to tackle the danger facing it. They can also get jumpy to alert you to check the situation and act.
This the best way the dogs know to communicate with us. If a dog spots a snake or a tiger in your backyard, they switch entirely into a jumpy mode.
6. Untrained
If your dog is untrained, it will be hard for him to like the presence of strangers or a new dog around. An untrained dog will act jumpy because it does not know how to respond to such a situation. Perhaps you can hire a dog tutor to train your dog.
7. Separation Anxiety
It is often said that a man's best friend is his dog. Most times, we often forget that these pets have feelings like we do. Dogs tend to get so attached to their masters that they can pick their scents and recognize their voices without having to see them.
When the dog senses that you are about to leave, they experience separation anxiety, which triggers jumpiness. It is exactly the same thing as when we are about to part from our toddlers.
What To Do If Your Dog Is Jumpy
After you have identified the cause of your dog's jumpiness, there are several measures you can take to alleviate this. For example, if your dog gets jumpy because of sudden loud sounds like a vacuum cleaner, perhaps it will help if you put on the vacuum cleaner a couple of times to make your dog used to it.
If your dog is untrained, consider enrolling it for dog classes, which will help it in many areas, such as responding to certain situations. It will learn how to respond to new visiting dogs and even strangers to the homestead.
Never forget to reward your dog for good behavior. After being away for a while, always remember to reward your dog when you return. This will help reduce separation anxiety when you leave because it knows that there will be a treat after your return. I would be at my best all the time if I received rewards after every separation.
However, rewarding your dog regularly when they act hyperactively will make them think it is a good thing and might never snap out of it. It is not all the time that you reward your dog. Only reward it when it's at its best, not when it attacks visiting dogs or strangers visiting the homestead.
As the master and friend to your dog, perhaps you would want to change your behaviors too. A dog's behavior will always mirror its master. If you are a jumpy person, your dog is most likely to get jumpy too.
If you are aggressive, it will respond aggressively to a situation and if you are calm, trust your best friend, dog, to comport itself calmly. Reward calmness so that they can know that good things happen when they stay calm.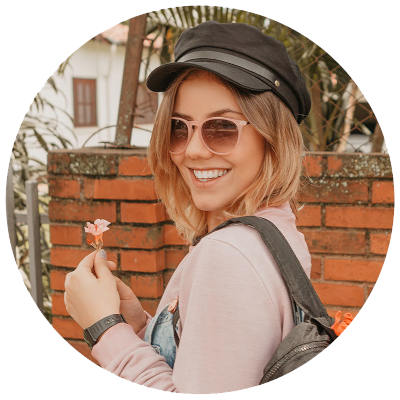 Purrfect n' Pawesome is the brainchild of Amanda, who has been into researching and writing about pets to help other pet parents in nurturing their adorable pets. Currently, she runs Purrfect n' Pawesome along with her team of experienced and dedicated pet experts. Along with being an awesome writer and entrepreneur, Amanda is a cat mom to two innocently spoiled cats, Balanca and Scruffy.
She has been writing about pet care and nurturing and wants to share her readers' experiences, learnings, and knowledge.
Over the years, she had the opportunity to work with various pet owners having multiple breeds, and that exposure gave her experience and the lessons of a lifetime.
Her family, her entire universe revolves around her two cats, who give her endless support and inspiration to move ahead with her objectives in life. Amanda is a live example of a balanced approach to all parenthood questions we all face in life.