Cats are considered some of the cleanest house pets to have, thanks to their natural attention to grooming.
However, that doesn't mean that tidying up after our fuzzy feline friends isn't still quite a chore.
Luckily, there are ways to make sure that your cat's waste doesn't get in the way of their health and cleanliness—and yours, too—thanks to self-cleaning litter boxes that are easily available to you.
What's ​​​​an Automatic Litter Box And How Does It Work?
A self-cleaning litter box has a container that catches your cat's waste when they go about their business. This supposedly traps the unwanted smell and prevents your pet from stepping on his or her mess until you clean out the litter box.
Now that you've decided to leap into the world of high-tech pet equipment, it's time to ensure you get your hands on the right one.
Here are our top picks to help you find the best self-cleaning litter box for you and your cat.
Best Overall
Our Top Pick: Catgenie Self Washing Self Flushing Cat Box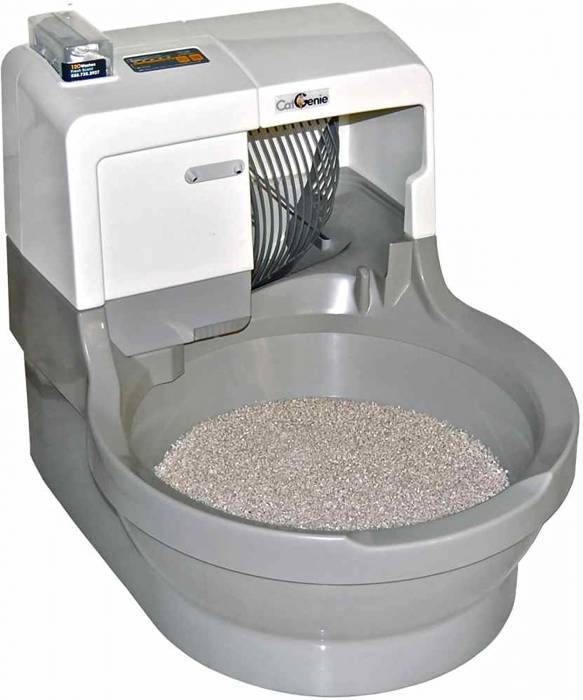 The CatGenie Self Flushing Cat Box is a close second when it comes to automatic litter boxes.
Shaped like a 16" by 24" toilet, it is programmed to scoop, liquefy, and flush cat wastes out directly into one of your home's pipes and the sewer.
It comes with a 90-day money-back guarantee and a 2-year warranty. The CatGenie is installed by connecting it to a cold water line and a wastewater drain, and then plugging it into an electrical outlet.
It comes with its kind of litter, CatGenie Washable Granules, which the company claims never needs changing and is biodegradable, dust-free, and septic safe.
It also uses SaniSolution (which comes in replaceable cartridges) and water to wash, clean, and dry both the main bowl and the granules.
There are three settings for the CatGenie: Cat Start, Auto Start, and Push Start. The Cat Start cycle starts ten minutes after the sensors indicate your kitty has left the bowl.
It has two settings: Active Mode, which runs for 14 hours straight and will automatically clean out waste, and Sleep Mode, which lasts 10 hours wherein it won't clean cat waste and therefore lets you sleep uninterrupted by the cycle's noises.
The Auto Start setting lets you choose how often the CatGenie runs in a day, depending on how many pets you have in the house. You can set it up to four cycles.
Finally, Push Start allows you to trigger a cycle whenever you need to, like in the middle of the night, for instance.
Why It Made The Cut
It has flexible settings. Depending on how many cats you have, you can adjust the cleaning cycles in a way that lets you make the most of your SaniSolution cartridges. One can last up to 240 washes, depending on the setting you choose.
You won't have to get near cat waste again. Because it goes directly into the drain, you don't have to empty the bin anymore. It's an efficient way to keep your cats and your hands clean.
It's easy to maintain. There's barely any maintenance required at all, other than changing the liquid when it runs out. You don't have to worry about the waste buildup and can leave your cats alone for more extended periods if necessary.
It's built to last. Reviews for this model include cat parents who have had their CatGenies working up to seven years after purchasing it. It's sturdy and well-built, so you know you get the bang for your buck.
You can choose between three different accessory packages. When you decide to buy a CatGenie, you have three package options that vary depending on the number of add-ons you want to be included. If you've got more than one cat, you might as well choose the package with more cartridges.
Some Things To Note
You need an extra cold water line. When it comes to installation, figuring out the logistics is trickier than the plug-and-play feature other self-cleaning litter boxes boast.
It's still more expensive than the average litter box. Although you only need one set of Washable Granules, you'll have to keep replacing the SaniSolution cartridges, and those expenses can add up.
It doesn't have excellent odor control. During the cleaning cycle, there might be a foul smell. The granules don't cover up the smell of the waste, and cycles take a while to complete.
​If your home has the right fixtures for the CatGenie, namely a stable water line and a secluded enough space that makes sure the size and smell of the unit don't get in the way, this is an efficient self-cleaning litter box that might work well for you.
The Runner-up: Litter Robot
The Litter Robot is a popular pick amongst cat parents who get free shipping, a 90-day-money-back guarantee, and an 18-month warranty.
According to the manufacturer's site, it's the only self-cleaning litter box with a patented sifting system that makes the most out of gravity to function. The Litter Robot has a spherical compartment that sits on top of a rectangular base. The cat crawls into the sphere while the box beneath it catches its waste.
When your pet walks in, the device's sensors make sure the self-cleaning features aren't activated.
As soon as the cat exits, the Litter Robot is pre-programmed to start a seven-minute countdown before the cleaning cycle begins.
Once the cycle is initiated, the sphere will begin to spin. A plastic net filters out the cat litter from the waste, and the latter falls through a hole and goes into the collection bin.
Finally, the sphere will go back into its former position, ready for another cycle.
Why It Made The Cut
It's great for multiple cats. If you're used to emptying several litter boxes, those days are behind you once you make the switch to a Litter Robot model.
It's perfect for all sizes.  The Litter Robot can take up to cats that are at least 25 lbs! So if you've got a heavyweight champ on your hands, cleaning up after them should be no problem.
It's well designed. This self-cleaning litter box doesn't just work great. It looks great too! It's sturdy and has a sleek finish, so it doesn't require much hardware upkeep.
It's high-tech. The Litter Robot 3 Connect model is WiFi-enabled, allowing you to connect to the device using your phone and monitor your cat's behavior and health! You'll get notifications about how the device is performing, if there's an issue you have to sort out, or if the litter box finally needs emptying.
It keeps your space smelling fresh. It's programmed to clean quietly and automatically seven minutes after your cat exits the device, so the odor is controlled before it can stink up a room.
You'll spend less on litter. Because it's efficiently engineered, you can use up to half less of your typical litter consumption.
Some Things To Note
It comes with a hefty price tag. The Litter Robot is one of the most expensive self-cleaning litter boxes around. However, this is one of those instances where you get more than what you pay for. Product reviews for this device feature satisfied customers who have said they'd gladly make the purchase again—and some have!
It can take up more space than others. If you don't have much extra room, this might not be the best model for you. It's bulky at about 25" wide and 27" from front to back, so be sure you've got floor space to spare.
The app may need some troubleshooting. Users have reported that they've run into some problems when trying to establish a steady connection between their phone and the device. Still, the Litter Robot's online support team diligently answers the concerns sent in via the website.
​The Litter Robot is a top-tier self-cleaning litter box that leaves very little for you to attend to after you've invested in it. While it can be more expensive than others, its many features make it worth the amount you shell out.
The Odor Controller: Petsafe Scoopfree Self Cleaning Hooded Cat Litter Box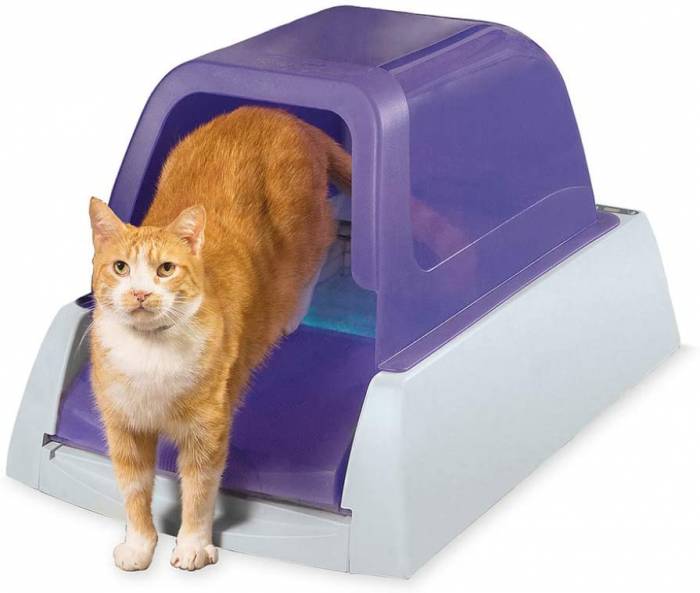 The PetSafe ScoopFree Self Cleaning Hooded Cat Litter Box is a plug-and-play unit known for its promise to be five times more effective in keeping kitty waste smells under control.
This lets you stay clear of having to empty the litter box as often as you used to, making it a low-maintenance option for cat parents. The model uses an automatic rake system that empties waste into a covered compartment at different time intervals, depending on how often your cat uses it.
Safety sensors detect if your pet has crawled into the litter box and tracks how many times it uses it so you can keep track of your pet's health.
Simply load up the disposable litter tray into the self-cleaning litter box and wait for your cat to use it. ScoopFree uses crystal litter, which traps unwanted odors and keeps your home smelling fresh.
Why It Made The Cut
It's easy to use. The PetSafe ScoopFree Self Cleaning Hooded Cat Litter Box doesn't require much setup and comes with an easy-to-follow manual detailing how to manage the model.
You can leave it alone for a while. This automatic litter box controls odor so well. You don't have to keep emptying it! If you have one cat, you may be able to do away with cleaning it out for up to about three weeks, while two cats may require a change every 15 days.
Keep the dust at bay. ScoopFree litter is 99% dust-free and doesn't stick to your pet's paws, so it doesn't track all over your home.
It comes with a hood. Give the kitty a little privacy while further preventing spillage onto the floor.
​Keep track of your cat's health. Monitor how many times your cat does his or her business and any drastic changes to their routine! A sudden shift in their habits may indicate that it's time for a trip to the vet.
Some Things To Note
Accessories can be expensive. While the unit itself isn't too pricey, the amount you'll spend on disposable litter trays eventually adds up.
The tray might give way. The cardboard at the bottom of the disposable tray is thin enough for your cat to scratch through it if they do it often enough, leading to leaks.
The PetSafe ScoopFree Self Cleaning Hooded Cat Litter Box is a low-maintenance option for cat owners looking for a sturdy unit without breaking the bank.
The Nonstop Cleaner: Petsafe Simply Clean Self-cleaning Cat Litter Box
The PetSafe Simply Clean Self-Cleaning Litter Box is a class of its own, boasting a system that continuously cleans up after your cat's business automatically. This self-cleaning litter box sifts waste and moves it up a conveyor belt before depositing it into the waste container, where it will wait to be emptied.
It runs 24/7, lowering bacteria levels and any foul smells from your pet's mess, keeping your home clean and fresh. If your cat won't take to the litter box no matter what, PetSafe offers you a full refund within 30 days!
Why It Made The Cut
It's quiet. If you've got a jumpy cat on your hands or if you happen to be a light sleeper, this litter box is an excellent match for you. Leave it plugged in without the annoying whir that other units often come with.
You don't have to buy add-ons. The PetSafe Simply Clean Self-Cleaning Litter Box doesn't require any extra accessories! It's a one-time investment.
It's cheaper than other automatic litter boxes. If you buy the model directly from the site, you can get it for as low as $72.99 with free shipping.
It's easy on the electricity bill. It already comes with a low-voltage AC adaptor and a 6-foot cord, and a manual to make setting it up a breeze.
It's not bulky. While other automatic litter boxes are made of heavier machinery, this is a relatively small unit and will fit nicely into a corner of your home.
Some Things To Note
You'll have to use your bags. This isn't a total drawback! Everyone has more than enough plastic bags that you might as well put to good use.
You might run into issues with the motors. Stray litter might get jammed up in the nooks and crannies of the litter box, so be sure you set aside time to make sure everything is running smoothly.
Bigger cats might not take to it. A downside to this being a small unit is, well, big cats won't fit well. It best accommodates cats 12 lbs and under.
​The PetSafe Simply Clean Self-Cleaning Litter Box is an entry-level automatic litter box that's mostly fuss-free. Despite a few maintenance requirements, it's easy to use and perfect for small homes with small felines.
The Heavyweight: Littermaid Multi-cat Self-cleaning Litter Box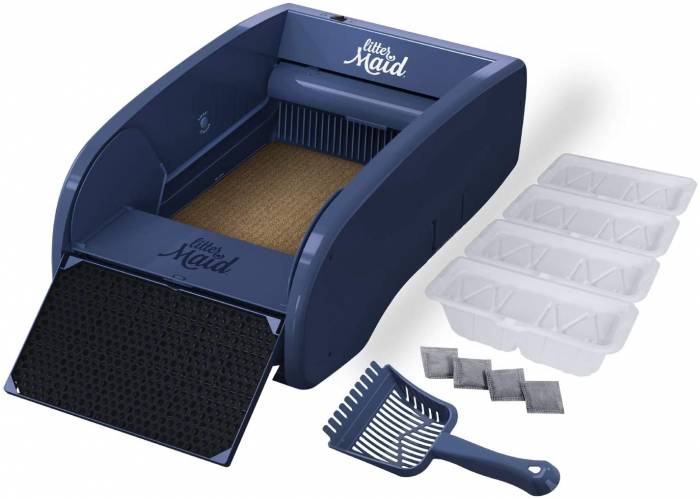 Got several cats? The LitterMaid Multi-Cat Self-Cleaning Litter Box was built with you in mind, as its large basin makes it perfect for multi-cat homes.
Your cat enters by climbing up on a ramp, triggering a sensor. The cleaning cycle automatically starts 10 minutes after your pet exits to make sure it's no longer in the box during the process.
In case your cat climbs back in, the countdown will start over. Once the cycle begins, the automatic rake will move back and forth to scoop the waste into the waiting receptacle, which will hold all unwanted mess in until you replace it.
Why It Made The Cut
It holds everything in. The litter box features walls that are 10" high, preventing your cat from kicking out litter and waste onto the floor.
It keeps your cat's paws clean. A cleaning mat is mounted onto the ramp to brush off any stray bits that might cling to your pet's feet so you don't accidentally get your home littered with litter (or worse).
It's a complete package. Purchasing the unit also gets you four waste receptacles, four carbon filters, one scoop and rake cleaner, the paw mat, and an AC adapter, all for about $100.
It keeps the unwanted smells locked in. The waste receptacle makes sure that the mess is gathered well and keeps icky odors from spreading.
Some Things To Note
It's not a keeper. Reviews have said that the unit often needs fixing up and doesn't last very long. While some users have been longtime believes in the brand, this particular model doesn't seem to cut it.
You have to watch litter levels closely. If you add too much, it could keep the sensor from working correctly and accidentally set it off when it shouldn't.
It can get loud. If you choose to buy this model, you might want to keep it in a more secluded part of your home to make sure it doesn't disturb you or your pets.
​The LitterMaid Multi-Cat Self-Cleaning Litter Box is an affordable automatic litter box that's a good fit for households with several cats and cat parents with time and patience to spare on making sure everything's running as it should.
The Eco-friendly Choice: Omega Paw El-ra20-1
The Omega Paw Roll N Clean Self Cleaning Litter Box might be the simplest, most straightforward item on this list, needing minimal setup, no filters, liners, or even electricity!
With its patented grill, this litter box filters out clean litter from clumped litter and waste in one easy step; cleaning up after your cat takes only seconds.
Simply roll the litter box onto its top and then reverse it back into its original position. The grill will separate dirty litter from the fresh granules and deposit the waste into a pull out tray for you to empty.
Why It Made The Cut
The setup is simple. While you might have to worry about putting some litter boxes together, this unit requires minimal effort to put together.
It'll save you hundreds of dollars. This is one of the cheaper self-cleaning litter boxes out on the market, retailing for about half of a mid-range automatic litter box. You won't ever have to buy additional accessories for this unit, and it won't add to your power bill either!
It's excellent for several cats of all sizes. At around 20" high, this unit is roomy, allowing even large cats to use it, and requires no adjustments in case you have more than one pet.
You can get extra hands-on cleanup duty. With no sockets, apps, or gears involved, you can add tidying up after the family cat to your kids' chore chart.
Some Things To Note
Be on the lookout for spills. Some users say that the tray occasionally slips out, scattering waste, so roll the unit carefully.
The grill isn't foolproof. Occasionally, clean litter falls in with the clumped litter, which can be a waste.
Be sure you pick the right kind of litter. If the litter you choose doesn't clump waste well, you'll be left with waste stuck in the main compartment.
You technically still have to be hands-on. It's not automatic in the way the rest of the litter boxes on this list are, but it does still spare you from scooping the waste up yourself!
​The Omega Paw Roll N Clean Self Cleaning Litter Box is a no-frills, cheap, and efficient way to keep you from having to clean up after your cat as you used to, perfect for cat parents who don't mind still being a little hands-on.
The Rock-a-bye Box: Le You Pet Semi-automatic Cat Litter Box
The Le You Pet Semi-Automatic Cat Litter Box is a cradle-shaped litter box made from environment-friendly, non-toxic resin. Again, it still requires more effort from you than other automatic litter boxes, but it's still a simple enough process.
This litter box features a basin set on a 14" stand, with a separate grid that filters out dirty litter from clean litter and deposits the soiled granules into a waste drawer.
Your cat will have to jump up into the open area and then exit the same way after they do their business. To clean up after your pet, just tilt the basin up so that the waste falls into the drawer, and then put it back upright.
Why It Made The Cut
It's a sturdy litter box. It's made of materials resistant to moisture, acid, and alkali corrosion, so you don't have to worry about the waste eating through it over time.
You don't have to bend over backward. Because it sits on a stand, cleaning up after your cats don't put a strain on your back. That means everyone in the family can keep the basin clean after the pets do their business.
It's a minimal investment. This litter box is the cheapest on the list, a tenth of what other automatic models are priced at. If you're not looking for anything fancy, this is perfect for you.
It has a seamless bottom. This proves it further against any urine spilling onto the floor.
You don't have to spend beyond your first purchase. Because it doesn't require any accessories or electricity, this is a one-time shell out—and a low one at that.
Some Things To Note
Washing it takes time. You have to take the litter box apart to clean it thoroughly, so make sure you allow enough time for that.
The waste drawer is neither lined nor sealed. Watch out for leaks once you've emptied the soiled litter into the waste drawer, and consider lining it with recycled plastic if you can.
Not all cats can leap. If you've got small or elderly cats, getting up into the basin might be a challenge. You can try adding a block or small stool to act as a stepping-stone for them to jump up.
​The Le You Pet Semi-Automatic Cat Litter Box is an affordable way to eliminate the most tedious parts of cleaning up after your cat, despite not being fully automatic.
How Will My Cat Get Used To Getting His Or Her Business Done In The Self-cleaning Litter Box?
A snazzy new litter box may confuse your pet at first. You might find that kittens adapt more easily to a self-cleaning litter box, but luckily, you can teach old cats new tricks.
Try using the same litter that your cat is used to before turning the litter box on. This will let them get used to the new area.
You can also try putting a little soiled litter in the new box to signal that this is where your cat should go from now on. And in desperate times, there's always a little bit of catnip bribery to turn to.
Do I Need One?
That depends on your daily routine and your cat's needs. Understandably, the higher price tag that comes with an automatic litter box may lead cat moms and dads to have their reservations about purchasing one.
But if efficiency and convenience are priorities for you, buying one is worth considering. It can be extra helpful if you've got more than one cat too!
Now what?
Choosing the right automatic litter box shouldn't be rushed. Take your time to assess your cat's habits, your home, and your budget before making a purchase.
We'll be right here if you've got any burning questions. Happy shopping!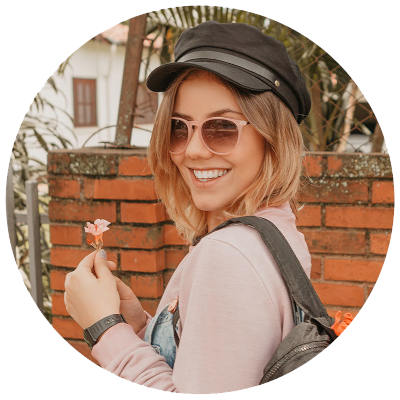 Purrfect n' Pawesome is the brainchild of Amanda, who has been into researching and writing about pets to help other pet parents in nurturing their adorable pets. Currently, she runs Purrfect n' Pawesome along with her team of experienced and dedicated pet experts. Along with being an awesome writer and entrepreneur, Amanda is a cat mom to two innocently spoiled cats, Balanca and Scruffy.
She has been writing about pet care and nurturing and wants to share her readers' experiences, learnings, and knowledge.
Over the years, she had the opportunity to work with various pet owners having multiple breeds, and that exposure gave her experience and the lessons of a lifetime.
Her family, her entire universe revolves around her two cats, who give her endless support and inspiration to move ahead with her objectives in life. Amanda is a live example of a balanced approach to all parenthood questions we all face in life.