For most experienced trainers who have advanced in their dog training, a dummy launcher is a must-have item. Dummy launchers are crucial in retrieval training, especially for hunting dogs.
In retrieval, sporting, and hunting training, dummy launchers are crucial because they also help dogs getting familiar with gun sounds.
Additionally, they substantially contribute to a dog's prowess in identifying marks, fetching dummies, and birds.
Here are the best dog training dummy launchers:
Best Overall
Dt Systems Super-pro Dummy Launcher With Dummy
What We Liked Most About This Product
The Super-Pro Dummy Launcher of the DT systems brand makes it exciting for the dog to practice retrieves. While training in green grass, you can shoot the dummies while pointing to the ground in light cover.
When you do this, it is apparent that it can roll and bounce off, making it exciting for the dog to see and grab it.
The dummy comes with a large-sized white dummy, which is easy for your dog to see while launching.
Due to its velocity, you can use this launcher to train your dog in thick grass covers.
Product Overview
DT Systems Super-Pro Dummy Launcher is a launcher that generates a hunting exercise instantaneously because it simulates the particular nature of a flying bird, which in most hunting exercises is the prey.
When launching the dummy, this launcher makes the exact sound of a gunshot. The simulation is precise, which is crucial to ensure that a dog has already been introduced to gunfire.
If you use this launcher, it is vital to ensure that you have ear protection. The launcher comes with a white dummy that is suitable for dark landscapes.
A launcher is a perfect tool for shooting dummies during retrieval training in both short and long distances. It has a 22 caliber blank launching load.
Pros:
It is suitable for training gun dogs.
Makes training effortless for the dog because the dummy is easy to find.
It is versatile because it can both be applied in both short and long-distance retrieves.
Makes the dog well-versed in hunting exercises because of the simulation of a bird.
Ensures that the dog is used to the sound of a gunshot.
Because the dummy is of a feather material, it can absorb the dog's saliva.
Cons:
The dummy quickly gets dirty.
The dummy can only be used for training hunting dogs and gun-dogs.
The white-feathered dummy is difficult for the dog to hold because it has no rubber knobs or flattened sides.
Its versatility is limited because the dummy cannot float on water, which makes retrieval training limited to land.
Dt Systems Remote Dummy Launcher Full Set, White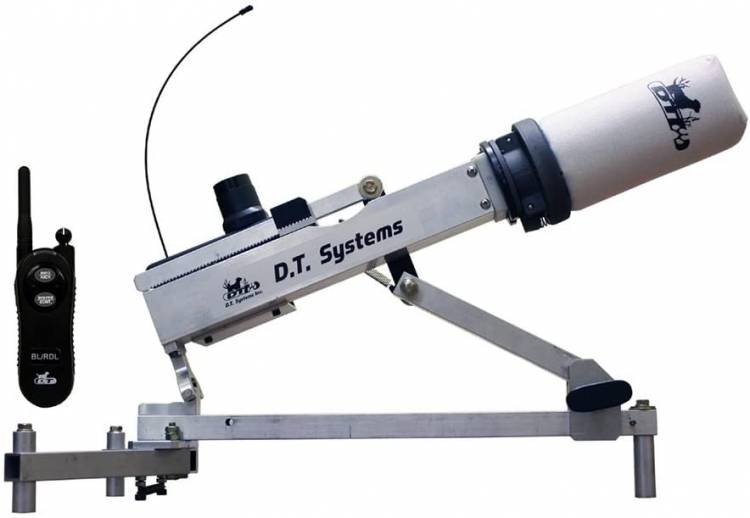 What We Liked Most About This Product
The launcher is hands-free, and you can use it without any help.
Another beneficial feature of this product is that you can program it to shoot dummies at approx. 1200 yards, which applies to both dummy and bird launchers.
If you have never used it before, you might find it difficult to operate. The launcher is a technical product because you have to know how to handle the remote and the transmitter. Thankfully, it comes with a DT owner's manual.
Product Review
The product is made of rugged aluminum material.
The launcher makes use of a remote system in the launching process. It can launch dummies up to 1200 yards away.
It is an excellent tool for multiple retrieves because it can manage 16 launchers at one time. It comes with a transmitter that signals the user when the launcher is ready to shoot.
There is a remote-controlled device for operating the launcher. The dummy is easily found after training because remote beeps to notify the user of its location.
The product weighs 6 pounds with dimensions of 18.5 x 5 x 10 inches.
Pros:
The launcher is an exemplary tool for long-distance retrieves because it can shoot up to 1200 yards.
You would think that it is heavy to carry around, but it weighs only 6 pounds.
It is suitable for multiple retrieves since it can control 16 launchers.
Ensures effective training.
It comes with a full set of both the launcher and the white dummy.
Cons:
The product is quite technical, which makes it hard for a beginner to use.
The dummy has no rubber knobs, which means that the dog finds it hard to hold it firmly.
Dt Systems Orange Launcher With Yellow Dummy, Red Power Loads & Free Out Rider Pro Whistle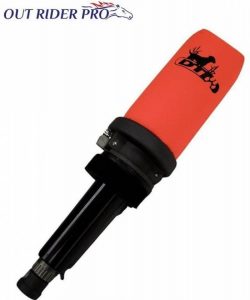 What We Liked Most About This Product
The launcher comes with a value pack, thus making it easy for a beginner to use. It is also an excellent tool for short-distance retrieval.
Product Overview
For this launcher, the DT Systems brand provides the product with a kit. It comes with both yellow and orange dummies. The package also has a whistle.
Due to the variety of dummies in the kit, you can ensure effective retrieval practice.
When you use this product, you may introduce blind retrieves for your dog because the package comes with an orange dummy.
Pros:
It allows the user to do multiple types of training because it contains a variety of dummies.
Easy to use.
Mimicking a bird and the sound of a gunshot.
The orange and yellow dummies that come with this launcher ensure that your dog learns how to use their nose.
Cons:
It is not versatile enough because the dummies are not designed to float on water.
The launcher can only shoot a dummy as far as 200 yards.
Dt System Dummy Launcher With 10″ Dummy Value Pack With Free Out Rider Pro Whistle
What We Liked Most About This Product
The launcher kit comes with a value pack that contains multiple 100 Red power level loads. There is also a pro whistle suitable for calling your dog to action.
Product Overview
Having a launcher with a value pack is essential, especially for a beginner because you have all items in one pack, limiting the search for proper training equipment.
The DT systems brand ensures that it benefits its customers with this particular product, as it comes with a 10 inches dummy value pack.
Pros:
A value pack of 10 inches.
It is an assorted kit because it contains the two dummies, the value pack, the pro whistle, and the launcher itself.
Your dog can easily hold on to the dummies because they are made of canvas material.
Cons:
The dummies are hard to clean.
The launcher cannot be used to train a dog in snowing landscapes because the two dummies are bright-colored.
Sporting Saint Handheld Dummy Launcher (Green, Canvas Dummy)
What We Liked Most About This Product
The launcher can be easily held and has a high level of impact.
While using it, you are supposed to hold the bottom part of the launcher, making it easy for you to shoot the dummy.
To shoot the dummy, you just pull out the bottom part, which ensures no negative impact on the launcher.
Product Review
The Sporting Saint is a launcher that you can rely on and use for training your dog in various landscapes.
While using it for training, you may shoot dummies over walls, hedges, fences, grass, and water.
The manufacturer provides the product in two material types. You can either get the product in PWC or canvas form, which are both green.
The product ranges are based on the distance of shooting, such as short, medium, and long.
Pros:
Easy to use.
Useful for blind retrieval training.
It helps the dog to get used to the sound of a gunshot.
Cons:
It can only be used for one kind of blind training.
Only one dummy.
Retriev-R-trainer Lucky Launcher Ii Gun Dog Kit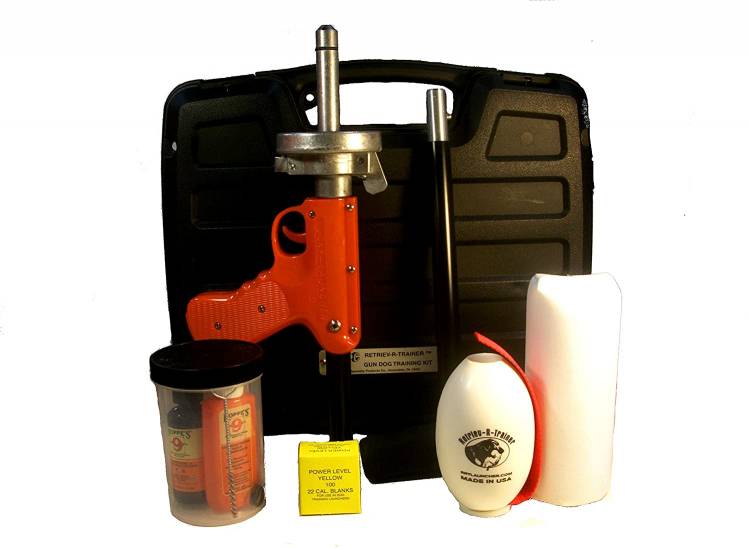 What We Liked Most About This Product
The best thing is that it comes with a complete set of items for dog training.
You will not have to look for other products such as a cleaning kit for your launcher if you purchase this product.
Product Review
The kit includes a launcher named the Lucky Launcher II, which is a 22 cal., a packet of 100 yellow colored blanks, a storage casing, which is a gun dog hard shell, cleaning tools, and a white dummy that contains a throw rope and is made of plastic.
The product is well-suited for gun dog training because it simulates the sound of firearms used when hunting.
When using this launcher, the owner is free from preventing the dog from breaking early.
The product is designed for the owner to make use of e-caller remotes and calls.
Pros:
The dummy that comes with this kit makes retrieval training efficient because the dog can see it easily.
Because it looks like an actual gun, it ensures that the impact of the launcher does not affect the user's hand while shooting.
If you have this product, you do not have to purchase other products such as cleaning items and blanks.
Because the kit contains a 22 caliber launcher, the gunshot sound is loud, simulating the actual gunfire experience.
Cons:
The kit only comes with one white dummy, which might limit the type of training that you would want to do with your dog.
Due to the loud sound of the gunshot, it can easily damage your hearing
Best Training Dummy Launcher – Frequently Asked Questions
Why Are Dummy Launchers So Essential In Dog Training?
They prepare the dog for an authentic hunting experience. During training, they ensure that the dog is experienced with catching birds.
Why There Has  To Be A Gunfire Preparation Before Training With Launchers?
It preconditions the dog for the experience with the gunshot sound.
Why Do Launchers Have Gunshot Sounds?
They help your dog to be familiar with the sound of a gunshot.
Which Is The Most Trustworthy Brand In The Provision Of Dummy Launcher?
The most trustworthy brand is DT Systems due to reputation, but other brands such as the Sporting Saint are coming up.
Does The Launcher That I Purchase Come With Its Own Dummy?
Yes. All launchers are packaged with their dummies.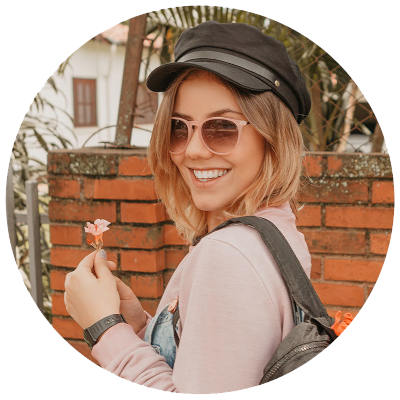 Purrfect n' Pawesome is the brainchild of Amanda, who has been into researching and writing about pets to help other pet parents in nurturing their adorable pets. Currently, she runs Purrfect n' Pawesome along with her team of experienced and dedicated pet experts. Along with being an awesome writer and entrepreneur, Amanda is a cat mom to two innocently spoiled cats, Balanca and Scruffy.
She has been writing about pet care and nurturing and wants to share her readers' experiences, learnings, and knowledge.
Over the years, she had the opportunity to work with various pet owners having multiple breeds, and that exposure gave her experience and the lessons of a lifetime.
Her family, her entire universe revolves around her two cats, who give her endless support and inspiration to move ahead with her objectives in life. Amanda is a live example of a balanced approach to all parenthood questions we all face in life.