Fresh air is necessary for everyone, so why refrain your loved dogs from getting some? Our dogs need to run, chase, and play outside to remain healthy and happy.
For the times when you get caught up in work or when feeling lazy, you can install a dog door and offer some extra freedom to your pet.
The primary purpose of a dog door is to allow the dog to explore the outdoor areas without your help. The reason dog owners install a dog door is to let the dogs soak up some sun, to go potty, or to let them play around.
However, before buying a dog door, it is essential to learn about several factors like the door's durability, size, fit, and safety.
In this detailed guide, we are presenting the top 6 dog doors for sliding glass doors and will also address some of the questions you may have regarding the dog doors. Have a look at this guide before purchasing a door to make a better choice for your loved companion.
Best Overall
Ideal Pet Products Aluminum Modular Pet Patio Door
It is never a good practice to prevent your dog from urinating for long hours, and with this pet door, you can allow the dogs to explore the outdoor areas for their bathroom trips. Especially if you are looking for a dog door for your aluminum sliding patio door, this one is a great choice.
This modular dog door comes with an adjustable height for standard-sized aluminum doors. The door is engineered using clear tempered safety glass and heavy-duty aluminum for durability.
It is super easy to install and comes in various sizes, so you can buy it according to the size of your pet. The door can be easily secured and will also prevent any other animal from entering the door when locked.
However, the ease of installation and size flexibility makes it the ultimate winner.
Pros:
Incredibly easy to install and assemble

Is available in plenty of different sizes for a customized fit

Made using sturdy and heavy-duty aluminum

Lockout slide system for controlled freedom

Does not wear due to climatic conditions

Easy to clean and maintain

Prevents injuries and accidents

Made using shatter-resistant glass
Cons:
The weatherstripping does not completely seal the gap between the dog door and sliding door properly
What We Like About This Door
While the wrong dog door can hurt and injure the dogs, this dog door is available in different sizes to allow the dogs of size 2-120 pounds to jump out without colliding.
The frames are wide enough to provide a comfortable and safe passage to your loved pets. The door can be installed in most of the standard sliding doors with sizes 77-5/8″ to 80 3/4″.
Petsafe Freedom Aluminum Patio Panel Sliding Glass Pet Door For Dogs And Cats

Not every door gets effortlessly installed into your sliding door, just like this pet door that comes with an adjustable frame. The door is energy efficient and features tinted and flexible flaps to prevent heat and cold from entering your house.
The slide-in panel of this door will allow you to offer controlled and safe outdoor access to your pet. Also, the door is designed to withstand adverse climatic conditions and accidents and, thus, is made using shatterproof glass and weather-resistant premium grade aluminum.
It's a stylish door that is also reasonably priced and highly durable. Plus, for renters, this is an easy-to-install and detachable door that'll come off the doors comfortably.
So let your dog benefit from this versatile door.
Pros:
Its slide-in panel offers full-controlled access to the pets

Built using premium-grade aluminum to withstand accidents and breakage

A detachable frame for sliding doors so you can easily remove it when needed

Available in different sizes and color options to cater to your needs

Comes with a lock for added security

Detachable and easy to install design

Its magnetic closure makes it highly energy efficient

Offers better insulation through strips
Cons:
The flap doesn't easily get secured with the magnets

May cause air leaks
What We Like About This Door
Even if fixing things with nuts and bolts is not your thing, this door makes an easy-to-install door that will get you excited. You can simply install the pet door to your sliding door without facing the hassle of cutting, drilling, or adjusting.
You can turn it into your simple DIY project and get the door ready for your dog within minutes. Plus, the product is detachable, so whenever you are moving to a new place, you can detach the door within minutes and carry it with you.
Endura Flap Pet Door Thermo Panel 3e Sliding Door Dog Door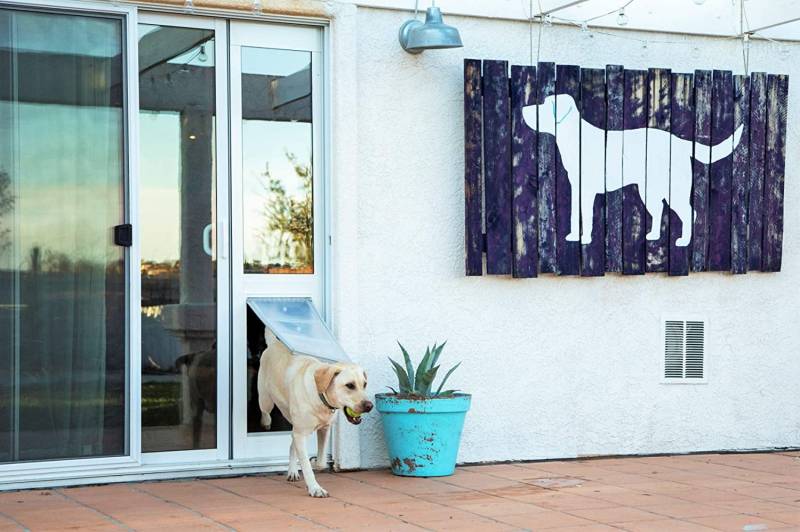 Available in white bronze and brushed aluminum options, this sliding door will make an excellent choice for your sliding door.
This door serves many purposes and is popular for all the right reasons. First, the door has magnetic strips on the side and a magnetic seal in the bottom to create a robust seal.
Second, the door features a non-toxic and recyclable polyolefin flap that works well even when it's freezing outside. Third, the door features a double-layer design that insulates like a dual-pane glass and a heavy-duty aluminum frame that makes this door highly sturdy and lasting.
Available in plenty of sizes and color options, this door is designed to offer maximum comfort and secure passage dogs of all sizes. This door will cater to your needs if you are looking for a door to keep your energy bills down!
Pros:
Fits easily in the sliding doors or patio panels without any tools

Easy to install and remove and great for temporary use

Features a dual-layer flap that is magnetically sealed

Comes with a slide-in locking cover for safety

Highly energy efficient for hot or cold climate

Available in multiple sizes and three luxurious finishes

Offers hassle-free and seamless fitting in minutes

The door protects against the wind for up to 50mph
Cons:
Weighty and hefty product
What We Like About This Door
The highlighting feature of this well-made door is its energy-efficient design. The door is designed to prevent air leakage and climate wear.
The magnetic straps are pet safe and effectively do the job of sealing the door while the dual-layered flap is a great way to embrace natural light while preventing keeping the temperature of your home consistent.
Plus, the door also features pivots on the rod to prevent any breakage or tearing. The flap is made using recyclable and non-toxic polyolefin that easily withstands the damage generally caused when it is icy outside.
Power Pet Fully Automatic Sliding E-glass Pet Door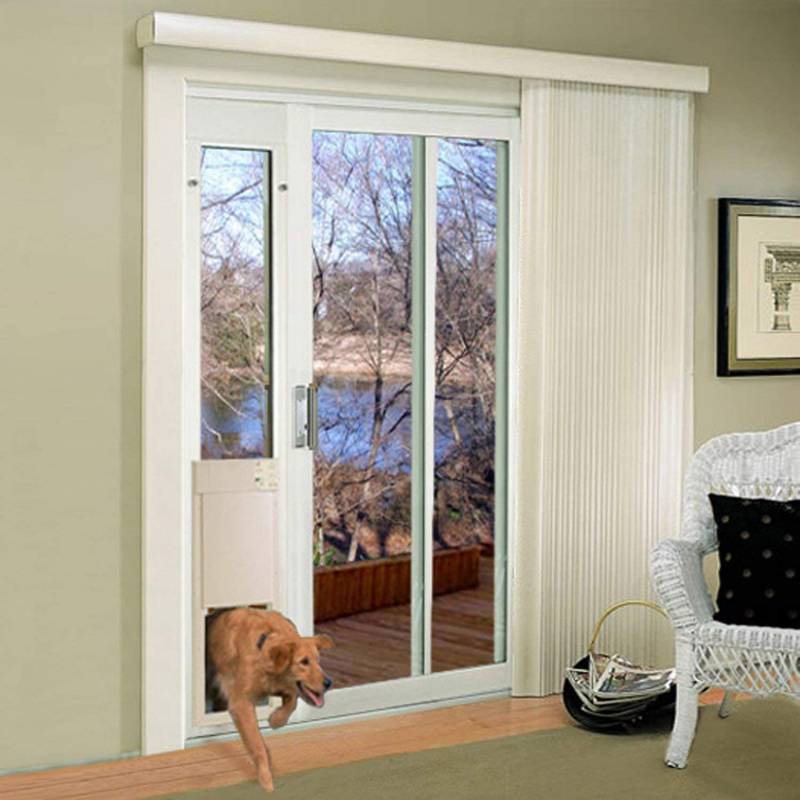 If you are looking for a fully automatic sliding glass dog door, consider this energy-efficient and high-quality door. This well-made dog door features a low e-glass panel and dual pane to conserve energy and offer a comfortable passage to the dogs.
If you want a luxurious and elegant-looking modern door, this is the door that brings together sophistication, strength, and energy efficiency. Thus multi-benefit door offers a "powder coat" and is highly durable due to its extra-durable aluminum frame and dual pane low e tempered glass.
The glass panel and the aluminum frame are twice as thick and around eight times stronger than the casual other panes available in the market. The unit will easily fit into your sliding door track and adjust to the height and width of your door.
Within an hour, the automated passage for your dog will get ready.
Pros:
Fully automated and energy-efficient dog door for sliding doors

Quick and intuitive installation

It is longer and more flexible than the other casual doors

Comes with high-impact full weather stripping to seal the edges

Doesn't cause air leaks and is entirely weather-proof

Opens while sensing the dog's digitally coded collar

Prevents intruders and other wild animals from entering the house

Made using high-quality aluminum and dual glass pane for added security

Its universal lock fits almost any sliding glass door
Cons:
The transmitters on the dog's collar are not waterproof

Requires a lot of batteries
What We Like About This Door
While most of the automated doors may waste energy due to inaccurate sensing, this automatic door comes with a sensor activated by your dog's digitally coded ultrasonic collar.
Whenever your dog wants to take a tour of the outdoor area, the sliding glass will allow your pet to pass through. Also, the door features a universal lock that easily fits into any sliding door and can seal lock the door when you are on vacation.
The benefit of this technology is that it prevents other dogs and intruders from entering the door. Plus, the door is weather-resistant, so even during a hurricane, the winds won't be able to get through the door.
Ideal Pet Products 80″ Fast Fit Aluminum Pet Patio Door

Put some extra efforts and let your free with this high-quality dog door.
While most dog doors are designed to fit in the walls, this durable aluminum dog door can comfortably sit into your sliding door track and offer maximum protection from intruders, bugs, wild animals, and even from harsh climatic conditions.
If you think that dog doors are only for smaller breeds, this large and flexible dog door can easily let large dogs pass through.
For your comfort, an easy installation guide is provided with the help of which you will install the door within minutes. Best of all, the door is available in refreshing satin silver color that will enhance the overall look of your sliding door.
Pros:
The versatile vinyl flap makes it safe and keeps bugs at bay

Specially designed to fit all the standard sized sliding doors

80″ huge dog door that is easy to install

Comes in a unique satin silver color and other 2 shades with a clear tempered glass

Offers a durable, watertight seal and is weather-resistant

Gets installed within minutes

Detachable and mobile frame

Offers customizable options to suit your needs
Cons:
The magnet may seem too heavy for small and tiny dogs

The flap doesn't offer a complete seal and thus is not highly energy efficient
What We Like About This Door
This fast fit aluminum pet door is designed to fit the aluminum sliding doors and is available in 5 different sizes for dogs of various sizes.
The adjustable height and flexible and transparent vinyl flap make it more convenient for almost all the sliding doors. It is an ideal dog door if you have one or more dogs.
It has a customizable frame, and it smartly restricts the use of the door when you don't want to use it. Its transparent vinyl flap will prevent scraping and will allow your dog to enter and exit safely.
Petsafe Sliding Glass Cat And Dog Door Insert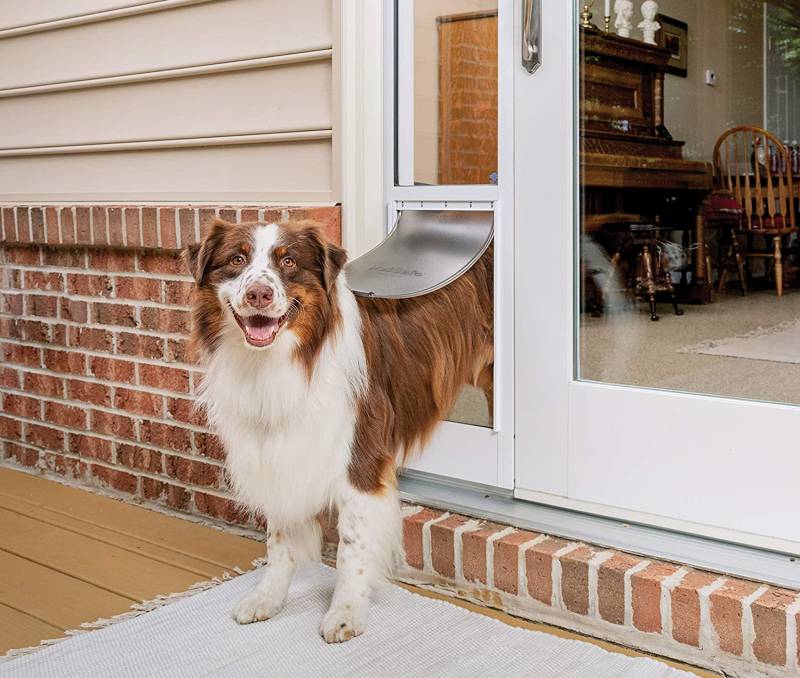 This is a dog door that is budget-friendly, sturdy, and works well with all the standard sliding doors. It offers easy installation in 2 simple steps and doesn't require any cutting or customization.
The door works well for most left and right-sided sliding glass door frames and is 80 11/16 inches tall.
If you live in a rented apartment and need a detachable door, this one can be easily removed and installed somewhere else within minutes.
If you are concerned about bugs or other animals entering your home through this door, it is vital to know that the door comes with an effective locking system and slide-in locking panel that makes the door even more secure.
Plus, it features a tinted magnetic flap that's neither too heavy nor too light for the dogs. It will quickly get stuck to the panel and prevent heat or cold from entering your home.
The door is specially designed for large dogs and offers a broad pathway to the dogs, and prevents injuries. The frame comes in small, medium, and large sizes, and the tamper-proof mounting system makes it more reliable.
Pros:
This is an economical and smart dog door for your furry friends

Offers added security through its high-end locking system and slide in panel

Available in 3 different sizes to fit even the largest dog

80″ tall frame and 10 ¼ W x 16 3/8 H suits for dogs up to 100lbs

Comes with a tinted and weather stripping flap to save energy

The magnetic closure prevents heat and cold from entering the home

Build for rigorous use and withstand climatic changes

Comes with an easy installation guide
Cons:
Weatherstripping is not 100% effective
What We Like About This Door
A long installation process can be tiring, but the entire point of a sliding dog door is to reduce the hassle and offer hassle-free installation. This dog door does precisely the same.
You don't have to cut or customize the frame as it comes in a standard size that easily fits into the sliding doors of apartments and condos. Especially if you live in a rental property, this is the most convenient dog door that can be removed and fixed as per your needs.
Simply insert the door into the door jamb using the screws or the adhesive straps, and your dog's door will be ready to use.
Frequently Asked Questions
Can other wild animals enter the house through dog doors?
There's a possibility that through the dog doors, any random animal can enter your house. However, this entirely depends on the precautions you take.
It is recommended to build a fence around your home to prevent animals from entering your area. Also, the dog doors come with a safety slide-in lock that works as a security cover.
So whenever you are off on vacation or during nighttime, you can use the covers to prevent animals from entering the home.
Remember that the dogs can smell and easily sense other animals, so if any other animal enters your home, your dog may alert you to the earliest.
Are dog doors burglar- or intruder- proof?
To safeguard your home from burglars or intruders, it is essential to install security alarms in your home. The dog door will not reduce the security of your home.
Your dog may alert you before any intruder enters your home. Plus, you can use the locking system or cover to lock the door during nighttime.
How does the sliding dog door work?
The dog door for sliding doors features a dog door fitted into a glass panel that easily sits on the track of the sliding glass door. The slider of your door will not slide till the edge of the frame and will slide into the panel you inserted.
Some dog doors may not entirely fit on the track and may cause air leaks, so the dog doors come with insulation strips to seal the gaps completely.
How to choose the best dog door for sliding doors?
Instead of the traditional hanging flaps, people are now choosing the dog doors for safety and flexibility purposes.
To choose the right one for your sliding door, it is crucial to consider several factors such as the size of the door, size of your pet, durability and construction of the door, ease of installation, energy efficiency, and security.
Choose a door that allows your dog to pass comfortably through the door.
For security purposes, choose a door that comes with a slide-in lock so that you can prevent intruders or other animals from sliding in.
These days, the doors with magnetic flaps are versatile if you look forward to getting energy-efficient and durable doors.
How to train the dog to use the door?
Dogs are great learners, and most dogs quickly learn to use the door. Begin with opening the door flap for your dog and make him chase some toy so.
Put their favorite toy or some food items outside the door and let them get to it by opening the flap for them. Keep doing this activity for several days, and your dog will automatically learn to move in and out of the door.
Conclusion
For our loved dogs, there's nothing more relaxing than the cozy environment of our home, but whenever the dog needs to urinate or get some air, they depend entirely on us.
A dog door is a great solution to give your dogs the freedom they want. With the help of a dog door, you can easily let your dog out without creating a disturbance in your schedule.
The dog doors these days have become more advanced and offer a quality seal along with flexibility control.
There are plenty of dog doors available to suit your changing needs, and the doors that are meant to be installed to the sliding doors are the best because you don't have to drill the walls or doors to create a wide route for the dogs.
Pick a door that easily fits your sliding door, is secure, and is spacious enough to let your dog pass comfortably through it.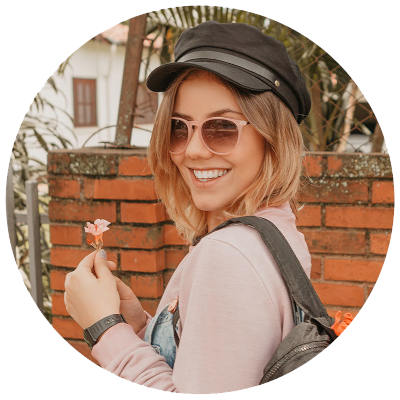 Purrfect n' Pawesome is the brainchild of Amanda, who has been into researching and writing about pets to help other pet parents in nurturing their adorable pets. Currently, she runs Purrfect n' Pawesome along with her team of experienced and dedicated pet experts. Along with being an awesome writer and entrepreneur, Amanda is a cat mom to two innocently spoiled cats, Balanca and Scruffy.
She has been writing about pet care and nurturing and wants to share her readers' experiences, learnings, and knowledge.
Over the years, she had the opportunity to work with various pet owners having multiple breeds, and that exposure gave her experience and the lessons of a lifetime.
Her family, her entire universe revolves around her two cats, who give her endless support and inspiration to move ahead with her objectives in life. Amanda is a live example of a balanced approach to all parenthood questions we all face in life.