Did you know Frank Crow invented the first cat tree in 1968? A cat tree is – a four-tiered structure with "a clawing surface of maximum appeal to a cat."
Cat trees serve different needs like; offering a unique place for sleeping, feeding, playing, and climbing indoors.
Since then, Frank Crow's cat tree invention has been simplified into various versions of cat boxes and stands to accommodate small cats.
Thanks to advanced 21st-century technology, cat tree designs have accommodated large cats.
As you can imagine, different variations of the little cat tree now exist, from the most extravagant-looking towers to the simplest igloo-inspired cubbyholes.
Therefore, if you're trying to shop around for the perfect cat trees for large cats, this guide can make your decision much more accessible.
5 Best Cat Trees for Large Cats
Finding the best cat tree through the hundreds of designs available in the market can be overwhelming.
To help you begin your search, here are 5 of the best cat trees for large cats:
5 Best Multi-tiered Treehouses For Large Cats: Aeromark International Armarkat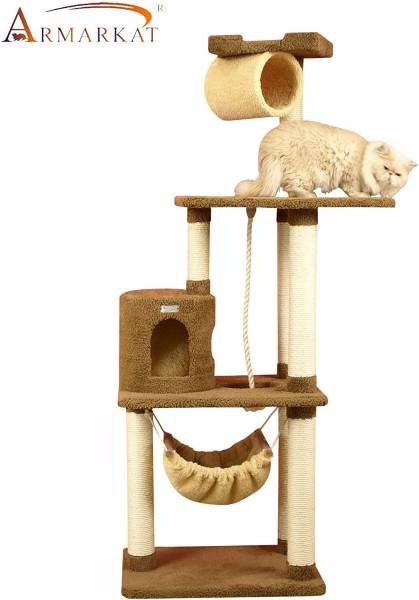 Armarkat is the best manufacturer of cat trees for large felines. Well, at least for cats weighing up to 60 pounds.
It's great for households with multiple cats because it is:
Available in 6 sizes – Although this model is only 34 inches, you can mix and match it with other cat trees and arrange them on your patio or living room as if they're just one tower.
It contains durable materials – Pressed wood covered in ultra-soft faux fleece that would feel heaven for your cats.
Designed with Nail-protecting Scratching posts – The design calls for natural sisal rope scratching areas, which prevent nails from damaging and trimming accidentally.
Pros:
The tan-colored set easily blends with a living room motif.
Armarkat's offers a six-month warranty for all its tree houses
Lower-priced repair fees should you need spare parts after the warranty period.
Good, sturdy build
Cons:
You'll have to assemble these medium-sized, two-tiered trees with a hammock all by yourself. Of course, if you love DIY projects, this is a win-win.
Best Design: The Furhaven Cat Tower Playground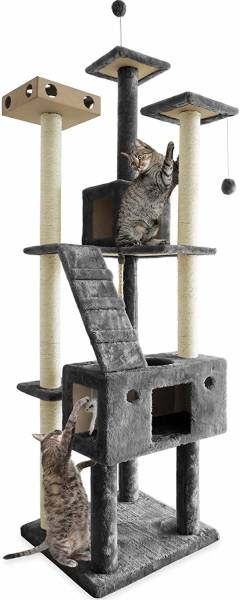 There's a lot to like about Furhaven's Tower Playground; it comes with several variations, but my pick is available in silver-gray and cream colors.
Cuddle-Spots– Ideal for cats that love cuddling, the design comes with two designated spots for resting and lounging. Except for the scratching post, all areas have a comfy faux fur that's gentle to your cat's paws. Notable features of this six-level playground include:
Designated play areas – The playground tower comprises multiple tiers to climb, slide and roll down, as well as ladders, dangling rope, faux mouse, and puffball toys. The Furhaven's trademark cat tree comes with an IQ busy box to keep your cat engaged.
Eco-friendly scratching post material – This cat tower uses sisal fiber. This eco-friendly, biodegradable, and durable fiber works to relieve your cat's scratching instincts without damaging any household furniture.
Space-saver – At first glance, the playground tower may look bulky, but it's not. It's tall with small-sized surfaces so you can stack it in one corner without much fuss.
Pros:
Your cats will get addicted to the tower's built-in toys.
Space-saving design for tiny homes
Scratching post safe for cat paws
Cons:
Furhaven explicitly states how easy it is to clean the tower, but it isn't as easy as they advertised.
Best Budget Pick: AmazonBasics Multi-Level Cat "Condo"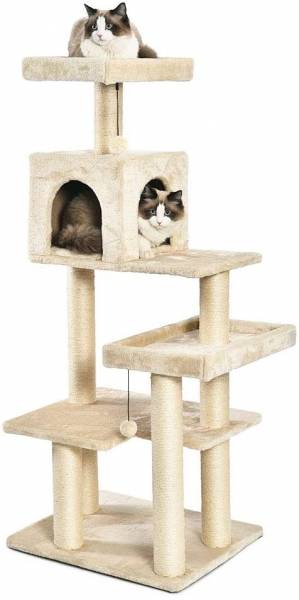 If you're on a budget but still want your large cat to be comfy in their own space, the AmazonBasics multi-level "Condo" version is more than enough for a single cat.
But solo pets and their cat owners would love this "condo" because of the following features:
Multi-Climbing platforms – Your cat can lounge, play or sleep in the multiple open and closed areas
Cool Color Tones– This "condo" can blend perfectly with any house decor. Available in neutral color tones, it is easy for the tower to camouflage very easily.
Strong Scratching Posts – Cats instinctively scratch their nails everywhere, but with designation scratching posts infused with organic jute fiber, their claws are left healthier than ever.
Pros:
The cat play area has a simple look, but there's enough to keep a solo cat busy for hours.
Neutral colors allow it to blend with your furniture.
Cons:
This cat tree design can be cramped, and it would not be the ideal cat tree for two or more cats or a chubbier-than-normal cat.
Perfect For Small Apartments: PetPals Paper Rope Bowl-Shaped with Perch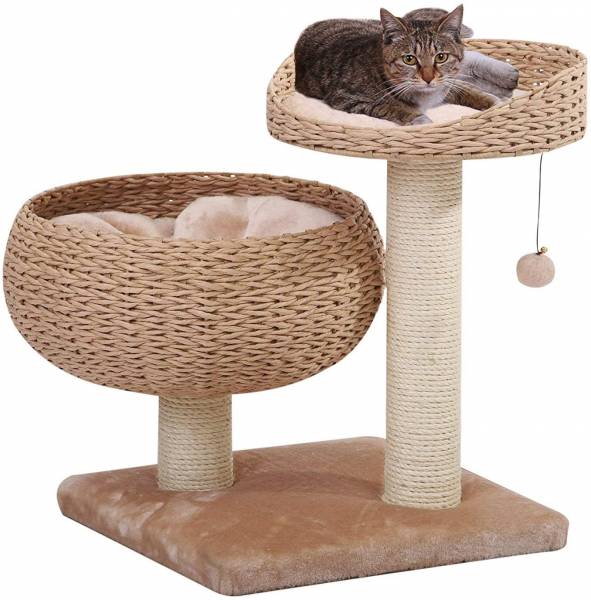 If you have a small apartment and are looking for a personalized space where your large-sized cat could call home, this cute little bowl-shaped perch will surely do the trick.
The PetPals Group, a respectable manufacturing company with over 20 years of experience, is known for designing the best pet products.
The material used to make this fashionable cat tower is recyclable paper rope.
The organic color and its dainty two-level design can become a unique customized centerpiece in anyone's living room.
There are only two spots your cat will relax, but these bowl-shaped rest areas look super inviting.
I bet once your cat feels the comfy fleece pillow, it would be hard for them to leave. Unlike other cat towers that look dangerously flimsy, the base is impressively made.
The base doesn't wobble at all.
PetPals released four other similar-designed cat trees that are just as classy, so if you're looking for a space-saving cat tree house, this one is for you.
Pros:
Super classy design
Two bowl lounges
Solid construction
Subtle scratching post
Four other designs
Cons:
There are no built-in toys or any room for climbing.
Best Cat Condo For Large Felines: FEANDREA for Large Cats
Large cats prefer to stay near the ground, so there's no need to buy cat towers and skyscrapers.
Instead, a good-sized cat tower with ample room and an enclosed area is enough. You can spice up the cat tower by adding cat treats at the bottom of your cat's tower.
FEANDREA for Large Cats is an excellent example of what you'd need for your chubby cat.
Notably, the FEANDREA design is simple, with two square arched rooms and a widened top perch so that two cats can share and check out the view.
There are two scratching posts – one attached to the sturdy base and the other connecting to the "roof."
The sisal rope posts prevent declawing while your cats scratch their nails to their hearts' content.
The plush fabric is thick and extraordinarily comfortable. You can see how laid back your furry babies will be once they try it out.
Pros:
User-friendly security add-on. Specifically, you attach a nylon band to the wall so it won't fall or tip over.
Comfortable lounging areas.
It fits two or more cats.
Cons:
Only three spaces are available for your cats.
The cat tower structure does not encourage playing and climbing.
What is a Cat Tree?
Traditionally, cat trees are structures that provide your cat with its private area.
The definition is vague, which means even just a regular box that gives a cat some excluded escape can be considered a cat tree.
Cat trees can be low or high in height, depending on the structure's purpose. For instance, cat trees for chubby cats are always down to the ground.
It can look like a simple tower with a pair of wooden shelves or a massive playground-like maze with numerous viewing areas, enclosed areas, step ladders, tunnels, and even fantastic elements like a hammock, ropes, and hidey-hole.
Of course, your cat's personality will make or break a cat tree:
Some cats use their trees exclusively for climbing
some pass by these structures when they're in the mood for scratching
Some love to perch and take in all the views from a certain height
Some cats would stay on their trees for most of the day.
As such, they have a cat tree doesn't guarantee that your furry friend will settle in and begin scratching on it immediately.
Some would take time to adjust, while others would still prefer scratching the furniture poles.
Materials used for these have also changed through time.
What used to be just tubing, wood, and carpet are now replaced by a mix of cardboard, fleece, fur, jute fiber, woven paper, and wood, among others.
Generally, cat trees comprise any structures that give cats a sense of security, and private space, regardless of height, materials, or design complexity.
Types of Cat Trees
Wonder why several different names refer to "cat trees" in stores? From cat condos to cat posts, cat towers to cat trees. Is there even a difference?
Different cat tree terms interchangeably have slight differences.
Cat Condo
These cat trees are designed for multiple cats to roam around several "rooms," levels, and play areas with built-in toys and scratching posts since they look like condominiums.
Cat Tower or Cat Stand
This cat tree is often tall and built with more specific features.
This cat tree has a strong base and a perch up top for cats to have a clear territorial survey.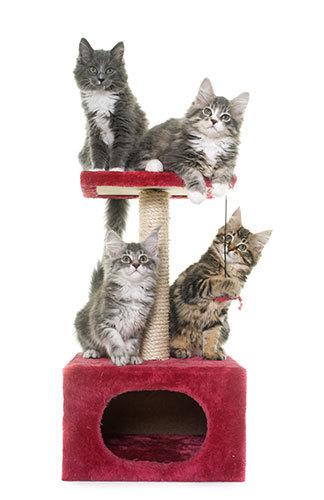 Cat Posts
Cat trees sometimes take more inspiration to scratch posts than pet playgrounds.
If this is the case, the design of a cat post will feature a wooden pole covered in scratch-resilient material.
Cat posts are always pleasant spots for cats to scratch their claws.
Thematic Cat Trees
Themed cat trees are the most extravagant of all.
They are structures designed with built-in tunnels, rooms, platforms, toys, food bowls for meals, and other fun features.
Additionally, it's possible to discover other names for this cat furniture, such as "kitty condo" or "cat house," but they'll likely all fall under these four categories.
Why Should You Get a Cat Tree
Cat trees can be the best investment you could give your little furball. Here are several reasons why:
Exercise Indoors
Let's face it. If you have indoor cats, they're most likely lazy and sleepy.
Cats can quickly adjust to home life, and since they're easily potty-trained indoors, there is no need to "walk" them out to do other activities like dogs.
With a cat tree, your cats' curiosity will inevitably lead them to explore the new tower and inadvertently move their bums.
They won't have to be tagged lazy cats anymore.
Explore and hunt
The best cat tree lets your pet fulfill its instinctual needs to explore and hunt.
While there aren't live rats or bugs to hunt, the toys built into these cat trees challenge your cat physically and mentally.
Establish territory
Cats are territorial creatures by nature, but indoor pets rarely show this behavior.
Giving your cat their territory allows shy or antisocial cats to have their spots for chilling and quiet areas for sleeping.
Scratching post
A simple cat tree will solve your problem if your cat uses your sofa or other furniture as her scratching post.
Subsequently, most cat trees have scratching posts attached to them to allow cats to sharpen their nails.
Prevent boredom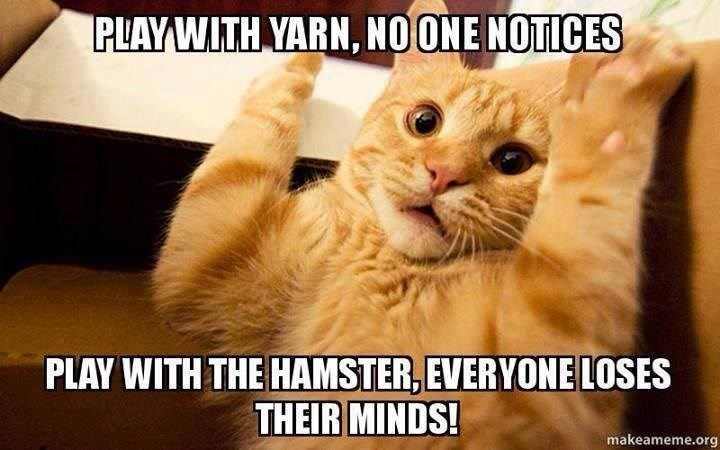 For solo cat owners getting a cat tower for your cat will keep her from getting bored or sad whenever you go to work or school.
The toys and mazes on cat trees encourage mental and physical stimulation.
Cats are happier and more energized when challenged mentally and physically.
Designated sleeping quarters
Indoor cats sleeping with you on the bed, on your bookshelf, inside closets, and in other areas finally have a "room" to call their own after getting a cat tower, hence reducing the chances of cats scratching surfaces or leaving fur everywhere.
Maintain harmony between multiple cats
Cat trees can be massive, with multiple cubes to sleep in and plenty of space to explore.
By installing multi-teared trees, people with numerous cats can still give all of their feline pals their much-needed personalized sleeping and playing spaces.
Give cats a sense of security and personal space.
Bringing shy cats, newborn kittens, and newly adopted felines into your household is a terrifying process for them.
This change could be scary for your existing cats, too.
Comparatively, It's the same threatened feeling they'll have when you bring home a new baby, dog, and other pets.
Having the best cat tree ready for your pets to escape is a healthy way of bringing back their confidence and reminding them of the sense of security you've always given them.
Relieve stress
Cats get stressed due to different reasons.
A cat tower serves as your cat's home, playground, sleeping quarters, and safe space, which is super-important in getting back solace and managing stress.
Prevent obesity and promote overall wellness
Your cat's overall wellness will increase, and the likelihood of obesity decreases due to being able to play, climb, exercise, sleep better, and hide in their cat trees if they're not feeling well.
How To Choose The Best Cat Tree
Cat trees are equally made. You will find the perfect fit if you select a cat tree with your kitties.
Factors to consider when choosing a cat tree:
Cat age or size
Elderly cats with mobility issues, arthritis, declawed nails, and other aging-related problems may not work well with tall and challenging cat trees.
Considering the size of your cat against the cat tree is essential. A small hidey-hole and tiny cubes may not accommodate a chubby cat.
Find one with enough room for your cat to stretch, jump around, and chill whenever they want to.
Cat behavior
Your cat's behavior will determine if a particular cat tree is ideal or not.
For instance, tree-dwellers require many shelves and levels to climb up without bumping into another cat.
Meanwhile, bush dwellers prefer more hideouts, so cat trees with cubes, tunnels, and covered beds are ideal.
Take a look at how this Maine Coon reacts to a new cat tree:
Dimensions and Number of Levels
Firstly, get the measurements of the cat tree you plan to buy.
Secondly, ensure the structure fits your vacant space, especially if you're eyeing a spot indoors.
Cat owners overlook the height and number of levels a cat tree has. It is essential to ensure the highest point of a cat stand isn't too high up the ceiling.
Toys
When buying a cat tree, it doesn't matter what age your cat is.
However, selecting a cat tree with built-in toys and a semi-playground is essential to keep them active, happy, and mentally stimulated.
Materials
Cat trees come with different materials, depending on the brand and design.
Your cat would likely use the tree daily, so it's best to double-check if the materials used are stable, sturdy, and of high quality.
Base
If your cat is on the heavy side, you'd want them always to be safe.
Cat trees with sturdy bases can support all features added at the top of the tree and hold everything in place.
It is advisable to check for features like anti-toppling grips and full bottoms.
Price
You can buy cat trees for as much as $50 and up to $750.
With this budget in mind, you can shop for a structure that ticks off all the features you're looking for but is still around your budget.
What's the Best Large Cat Tree?
Unfortunately, I can't say. Your one-of-a-kind cat deserves a cat tower explicitly bought for its comfort.
Cats have different personalities. Their attitudes and preferences toward food, toys, or even favorite playmates vary significantly.
There's no easy way to learn about your cat other than to hang out with them.
Understand her needs, learn her weaknesses, and determine which product matches her requirements.
Hopefully, this buying guide has provided you with all the information you need to choose the perfect cat tree.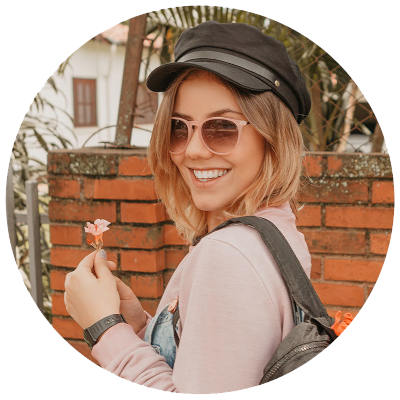 Purrfect n' Pawesome is the brainchild of Amanda, who has been into researching and writing about pets to help other pet parents in nurturing their adorable pets. Currently, she runs Purrfect n' Pawesome along with her team of experienced and dedicated pet experts. Along with being an awesome writer and entrepreneur, Amanda is a cat mom to two innocently spoiled cats, Balanca and Scruffy.
She has been writing about pet care and nurturing and wants to share her readers' experiences, learnings, and knowledge.
Over the years, she had the opportunity to work with various pet owners having multiple breeds, and that exposure gave her experience and the lessons of a lifetime.
Her family, her entire universe revolves around her two cats, who give her endless support and inspiration to move ahead with her objectives in life. Amanda is a live example of a balanced approach to all parenthood questions we all face in life.