Our beautiful household pets, the ferrets, have a highly developed sense of hearing. Over time, the wax can build up in their ears. It's usually light brown, orange, or reddish.
Ear wax requires regular cleaning. Otherwise, there could be a stench build-up and a breeding ground for ear mites resulting in a deterioration of its health.
A routine of ear cleaning using only a cotton swab to clean is not advisable since this can puncture the eardrums, lead to infections, and even a loss of hearing.
So the use of a safe ear-cleaning solution is preferable, capable of not having adverse effects on your pet's hearing health. We will be taking a look at some of the best ferrets' ear cleaners suitable for your pet.
Best Overall
Marshall Ferret Ear Cleaning Solution
This ferret ear cleaning solution is made up of Propylene glycol, Malic acid, Benzoic acid, Salicylic acid, and Eucalyptol in its composition.
Propylene glycol is a stable, colorless, and odorless liquid that is an excellent solvent because it dissolves hydrophobic and polar substances.
It is considered to be safe for both animal and human use as it has the lowest toxicity among the family of glycol and is also used as a fungistat in pharmaceuticals.
Eucalyptol helps promote healthy ear tissues.
It possesses anti-inflammatory properties, gives a soothing sensation, and is a significant component that ensures wax odor loss due to its pleasant aroma.
The combination of Benzoic acid, Malic acid, and Salicylic acid components, too, is meant to loosen the wax texture for easy removal and cleaning.
Pros:
They neutralize bad wax ear odors
It is made up of a non-staining formula
Very effective for routine ear cleaning without a veterinary doctor's assistance.
Also useful for the prevention of ear mite infestation
Easily loosen ear waxes, aiding easy and safe washing away of the dirt from parts of the ear where it's dangerous to clean off with a cotton swab.
It helps promote healthy ear tissues as the composition of its components is mild enough not to cause ear tissue damage
Cons:
Composed mainly for ferret's use. Your veterinary doctor must approve usage on other pets.
Quite tricky to get information about its packaging and expiration date.
The solution comes out in large droplets, and if care is not taken, lots of wastage could result.
Dechra Epiklean Ear Cleanser

Having its active ingredients as Propylene glycol and Salicylic acid cleanser not only helps to remove the debris off your pet's ears but also to inhibit any microbial activity.
It contains a drying agent that quickly dries off your pet's ears after cleaning. Though they are primarily meant to be used on cats and dogs, they have been efficient in the cleaning of ferret's ears.
Pros:
It prevents infection infestation when used regularly
It's got an excellent smelling fragrance, not a repulsive one
The fragrance lasts for a long time
They dry off efficiently in order not to leave moisture behind for microbial infestation
Efficiently remove debris off your pet's ears.
Cons:
The scent lasts for some days after the cleaning, which might be unpleasing to some users.
Not meant for infected ferret ears.
Oti-clens Ear Cleaning Solution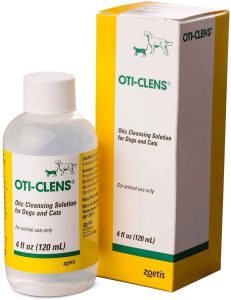 A combination of its active ingredients, Benzoic Acids, Salicylic acid, and Malic acid, helps break down and remove wax, dirt, and other debris.
Wax odor building up is reduced and even prevented due to the action of Menthol/Citronella fragrance.
Oti-Clens Ear Cleaning Solution also contains Simethicone, which is an anti-foaming agent, and Propylene Glycol as an excellent stable, odorless, and colorless solvent.
This cleaning solution is primarily formulated for dogs and cats but is very effective for ferrets.
There's little or no significant difference between its chemical composition and any top ferret ear cleaning solution out there. It's trusted by lots of veterinary doctors and pet owners.
Pros:
Doesn't have a very strong fragrance
It does not irritate ferrets ear tissues due to its mild composition
The solution is non-toxic and does not retard the healing
Facilitates the breakdown and easy removal of wax, dirt, and other debris
Effective removal of wax prevents the infestation of infection
Cons:
It is irritating to the eye
Virbac Epi-otic Advanced Ear Clean
There's an inclusion of an innovative glycotechnology using monosaccharides soothing effect to limit the bonding of microorganisms. The pH ensures that it does not interfere with other ear solutions and has a faster drying and cleansing feature for routine cleaning, enabled by its mild, alcohol-free content.
Its contents are Lactic acid, salicylic acid, Chitosanide, PCMX, a disinfectant and antiseptic, a monosaccharide complex, propylene glycol, and sodium docusate, a softener.
Pros:
The innovative glycotechnology is anti-irritant to the skin and increases the anti-adhesiveness of microorganisms to skin
The innovative glycotechnology also reduces the secretion of inflammatory mediators
They neutralize bad wax ear odors.
The composition is gentle enough for frequent use
Effective in loosening and easy removal of wax
Dries fast and removes moisture to discourage infection infestation
Its Keratolytic formula aids removal of dead cells and debris
Cons:
Some pets have experienced irritation. So be observant if it's suitable for yours.
It has a slightly medicinal and soapy smell that is offensive to some.
Zymox Ear Cleanser By Pet King Brands
The components making up this composition comprise proteins, enzymes, and moderate cleaning surfactants.
They contain Zinc Gluconate, Glucose Oxidase, Lysozyme, Lactoferrin, Lactoperoxidase, Sodium Lauroyl Sarcosinate, Propylene Glycol, Glycerin, Benzyl Alcohol, and Purified Water.
Though antibiotic-free, the inclusion of the enzyme glucose oxidase in there is to facilitate glucose oxidation.
Thus, producing hydrogen peroxide as one of its end products which displays antibacterial activity by effectively killing bacteria.
Included, too, is the Zymox original LP3 Enzyme System, which is antibiotic-free but is very active on a wide range of diseases, causing yeasts, fungi, and bacteria.
Zymox Ear Cleanser helps control microbial growth within the ears and destroys microorganisms without harming healthy cells or irritating the skin.
Pros:
Zymox ear cleaner is effective for the prevention of infection and maintenance of healthy ferret ears.
Enzymes continue to work effectively for your pet because microbes form no resistance against them.
Easily and quickly removes wax, bad smelly odor, and debris from non-infected ears.
It contains only safe, gentle, and non-toxic ingredients, so no irritation on the pet's ears or skin.
Mild surfactants clean dirt and wax effectively from inner ears
Zymox patented LP3 Enzyme System help microbial control growth
It can be used to flush ears after treatment for an ear infection, to free them from discomfort.
Cons:
It's quite a sticky, greasy solution. So if during cleaning, it gets to touch parts of your pet's fur, it becomes attracted to lots of dirt.
Ensure to be observant of any reaction since this is formulated mainly for dogs and cats, although effective for ferrets.
At this point, we have taken a considerable look at the best ferret ear cleaners available. We've seen their contents and how they contribute to the efficiency of the solution. Routinely carrying out ear cleaning of your ferrets will both be beneficial to you economically and health-wise.
Healthwise, there won't be a breeding ground on which bacteria, fungi, and other disease-causing microorganisms can take advantage of to cause harm to the hearing health of your precious pet.
Economically too, there will be a drastic reduction in the number of times you pay your veterinary doctor visits, thereby reducing the thousands of dollars spent on your ferret's health.
You just need to carefully make the right choice as to which one is best suited and effective for your pet.
Ferret Ear Cleaners  – Frequently Asked Questions
How Do I Clean The Ferret's Ears?
After picking up the ferret by its scruff, that is the loose portion of the skin of the ferret's neck, follow the instructions contained on the Marshall Ferret ear cleaning solution bottle.
You are to apply liberally into the ear canal and properly massage. Then clean the visible and accessible area of the canal with your cotton ball.
Please note that it is not advisable to push your cotton ball or Qtip beyond the ear canal.
Also, if your ferret is irritated by the cold temperature of the ear cleaning solution, some have found it helpful to warm it a little by running warm water on its bottle.
But do not let it get hot as that will be harmful to its health.
Can It Kill Ear Mites?
Not really. Its formulation is meant for the maintenance of a healthy ear and the prevention of mite and infection infestation.
Is It Effective For Use On Other Household Pets?
Though it is formulated primarily for ferrets, its mild formula doesn't look like a threat to other household pets.
Some experiences have shown that it's effective for use on rabbits, dogs, cats, etc., but ensure to consult with your veterinary doctor before use.
What Is The Shelf Life Of This Product?
The expiry date for this product is always written on the cleanser's bottle. Depending on your purchase time, the product could last between one and a half to two year periods.
Can You Make Use Of This On Ferrets?
Definitely yes. They have the same active ingredients contained in any top ferret cleaning solution.
Veterinary doctors have, for several years, now made use of it and have recommended it to their clients.
But if your ferret is suffering from a seriously debilitating illness, please consult with your veterinary doctor before use.
How Do You Make Use Of It?
For proper administration of Oti-Clens, the applicator provided should replace the bottle cap of your cleaning solution.
After picking up your pet by its scruff and stabilizing it, liberally apply the solution to the ear canal of your pet and massage the base of the ear. Clean the accessible portion of the ear canal with a cotton ball.
Let the ferret shake its head to remove wax from the middle and inner layer of the ear, then clean the accessible portion of the ear canal again with a cotton ball.
Repeatedly carry out this procedure if necessary. Use once or twice a week on a routine basis.
Is It Capable Of Effectively Treating Bacterial & Fungal Ear Infections In Ferrets?
No.
It is meant to prevent the infestation of bacterial and fungal ear infections. Based on your veterinary doctor's recommendation, it can be used first to help clear the ear wax before applying ear medication.
This is done to aid the effective action of the ear medication applied since it rarely interferes with other ear solutions.
What Is The Estimated Shelf Life?
They have a shelf life estimated at about a year and six months.
Is There A Difference Between Zymox Ear Cleanser And Zymox Ear Solution?
Yes.
The ear cleanser is meant to be used for your routine pet ear cleaning to maintain healthy pet ears and prevent infection infestation.
While the solution, which might have Hydrocortisone present or absent, is meant to tackle troublesome ear exudates.
Can Zymox Ear Cleanser Be Used On Ferrets?
The ZYMOX patented LP3 Enzyme System is safe to use on ferrets. ZYMOX is antibiotics-free; harsh chemicals are not included and are non-toxic.
Ensure you first consult with your veterinary doctor if there is an underlying factor that could make it unsuitable for your pet's use.
Should I Apply Powder After Usage Or Does It Dry Off On Its Own?
There's no need to apply powder to aid drying. After cleaning properly with your cleanser and cotton ball, just let it dry off on its own.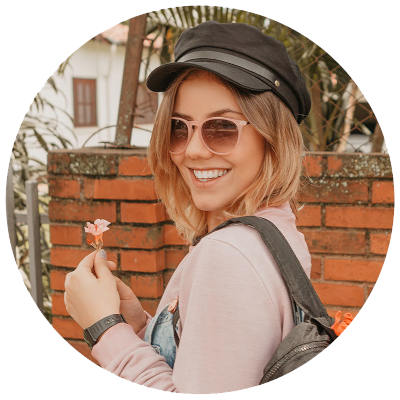 Purrfect n' Pawesome is the brainchild of Amanda, who has been into researching and writing about pets to help other pet parents in nurturing their adorable pets. Currently, she runs Purrfect n' Pawesome along with her team of experienced and dedicated pet experts. Along with being an awesome writer and entrepreneur, Amanda is a cat mom to two innocently spoiled cats, Balanca and Scruffy.
She has been writing about pet care and nurturing and wants to share her readers' experiences, learnings, and knowledge.
Over the years, she had the opportunity to work with various pet owners having multiple breeds, and that exposure gave her experience and the lessons of a lifetime.
Her family, her entire universe revolves around her two cats, who give her endless support and inspiration to move ahead with her objectives in life. Amanda is a live example of a balanced approach to all parenthood questions we all face in life.