Everyone who owns a pet agrees that getting pet-themed gifts reminding them of their furry companions is a nice gesture. However, getting gifts for ferret owners can be a tricky task.
This is why we have put together a buying guide for the 10 best gifts that ferret lovers would adore.
These gifts have been carefully researched, taking into account all factors that ensure you get the perfect gift just right for them.
Funny Ferret Coffee Mug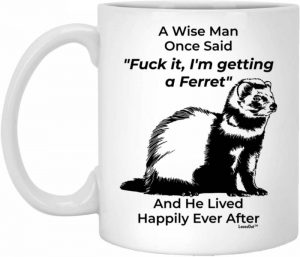 Most people drink coffee to start their day, which means they need mugs at home and the office. This mug is a hit with ferret lovers because it reminds them of their wonderful pets.
Anytime they use the mug, they are instantly filled with the joy of living with their furry companion. It is durable and dishwasher-safe, making it easy to use and maintain.
Its funny quote makes it a beautiful gift for the holidays or birthdays.
What We Like About This Product
Apart from being an excellent gift for ferret lovers, everyone needs mugs, and this serves both functions adequately. The funny quote is printed with quality materials that ensure it lasts the test of time.
Pros:
It is a cute addition to your mug set.

It can be a hilarious gift for family and friends.

Perfect for ferret lovers.
Cons:
It can be a little pricey.

It is quite small for people who love large coffee mugs.
Product Review
Apart from the size issue, most people who bought this mug thought it was cute and a perfect gift for ferret lovers. They especially like the inscription on the mug, and the ability to send in a custom inscribed was also praised.
Ferret Coloring Book For Adults
Anyone who says coloring books are not suitable for adults has not seen this ferret coloring book.
It can be a fun way to pass the time and also engage your imagination while releasing stress. It has lots of ferret pictures that would take some time to fill with colors. Besides, it can serve as a fun way for families to pass the time while they color their favorite pets.
What We Like About This Product
When it comes to gifts for friends who love ferrets, you can do no wrong with this coloring book. It is just the right type of puzzle to get them engaged for hours on end.
This is because of its simple style. It can also be used by kids who have ferrets as pets or those you want to introduce to ferrets.
Pros:
It has a simple style and is easy to use

Helps people with stress calm down by using their imagination to color the images.

It has lots of images to color.
Cons:
Some images in the book are cut-off.

There is a limited number of ferrets to color.
Product Reviews
Most people who bought this coloring book thought it was exceptional. They liked that it because it wasn't the regular gift Ferret lovers would expect, which was something they were looking for.
They like the fact that the book engaged them and that it has lots of pages to color, which would keep them busy for quite some time.
Concept Ferret Original Ornament
Everyone loves ornaments. They can add that extra touch needed to complete home décor. This ferret ornament is beautifully hand-painted in stone resin with a red and blue scarf that can be removed.
It comes with a chain, which makes it easy to hang. This gift is special for holidays, birthdays, and special occasions to remind owners of their wonderful pets.
When you aren't sure of their taste in gifts, this is perfect because it is simple and unique.
What We Like About This Product
This product is lightweight, and ferret lovers would find it adorable. They can use this ornament in the office to remind them of their four-legged friend at home.
It is made from safe materials that make it suitable for kids who love to play with it. It can be hung on walls or Christmas trees during festive periods as a subtle reminder that ferrets are welcome in that home.
Pros:
It is cute and can be hung at home or in offices.

Made of safe materials.

It reminds owners of their beloved pets.
Cons:
It doesn't have the best packaging.

Smaller than regular toys.
Product Reviews
This gift is excellent for holidays are special celebrations. It is beautifully made, and your friends are given the option of hanging it on their Christmas tree or finding a sweet spot where everyone would be able to see it.
Beautiful Ferret Keychains
If you don't want to spend much, but you still want to get your ferret-obsessed friends something they would cherish, then this is the right gift for you.
It is simple, stylish, and functional, it comes with a gold-painted chain for securing keys, and it fits comfortably in all pockets.
Like most ferret products, it is made from stone resin materials that make it stand out. It may be small, but it is beautifully detailed at a great price.
What We Like About This Product
Everyone wants to get friends and family gifts; they would love and carry them everywhere. This gift does just that. It is lightweight but noticeable when keys are attached to it, a quality all good keychains should have.
Apart from its functionality, it is also lovely to look at, and a lot of time was invested in adding the details to its body.
Pros:
Functional and lightweight.

Simple but still looks great.
Cons:
It is very delicate and breaks easily.
Product Reviews
Most customers that got this gift were amazed at how good it was when it arrived. They praised its packaging and how detailed the ferret looks.
Some of them complained that it wasn't durable enough; they claimed it broke after a few falls.
Business Illustration Ferret Art Print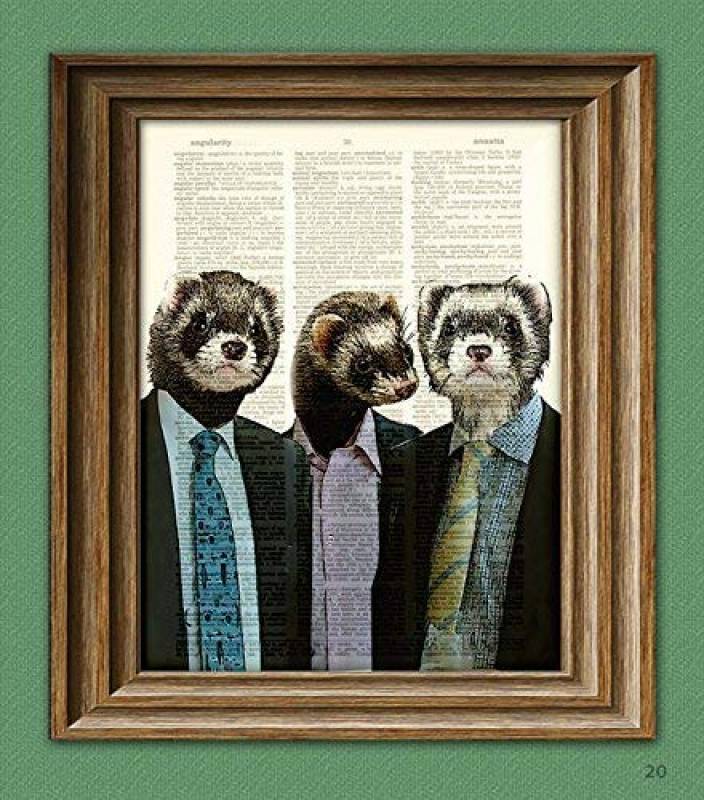 If your friends love wonderfully made art and ferrets, then getting them this print as a gift that incorporates the two would be the best logical option.
The illustration shows ferrets in suits directly printed on old dictionary pages that are framed. It matches all décor giving it a whimsical appeal, and is great for starting conversations.
Getting this as a gift for ferret lovers is sure to leave a smile on their face anytime they look at it hanging in their homes.
What We Like About This Product
This product is an excellent lighthearted gift for family and friends, it fits floating frames, and space can be made for it all over the home.
Guests to their home would always stop and wonder where they got the gift from, which is great for starting conversations; buying these gifts support a growing home-based business.
Pros:
It is a unique illustration that helps beautify its surroundings.

Made from recycled dictionaries that help the environment.
Cons:
It doesn't come with a frame. You would need to place it in a frame yourself.

The print is smaller than traditional frames.
Product Reviews
The Business Illustration Ferret Art Print was a hit with ferret lovers. Customers liked how unique and different it looked. They all commended the creators for the effort put into the prints production.
Some customers didn't like the fact that it was sold without a frame. They noted that they couldn't get the proper size for the print, making them use frames that were bigger than the print.
Best Overall
Women Pet Ferret Carrier Hood Sweatshirts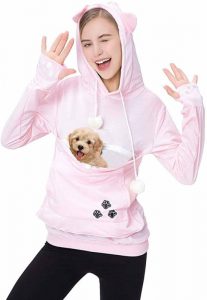 This beautiful hood sweatshirt was made, especially for owners who love to take their ferrets on play dates and outdoor trips.
It is made of premium polyester and cotton that is gentle for the skin.
It has a sturdy carry pouch with lots of space for your pets to relax and enjoy the ride while you go on playdates. The product is lightweight and easy to clean, making it a great gift ferret owners would be thrilled to have.
What We Like About This Product
It is a beautiful gift because of its carry pouch function, which removes the need for owners to carry heavy cages or bags that add extra weight.
It is convenient and super easy to use, making it a must-have for all ferret owners that need their hands free when going out with pets.
Pros:
It gives owners the ability to go out with their pets without carrying bags and cages.

Convenient and easy to clean after use.

It is made with beauty in mind.
Cons:
Buyers have to be carefully selecting the correct size because if the wrong size is ferret chosen may have a hard time moving in the pouch.
Product Review
This product has mainly good reviews; they all said how comfortable the carrier sweatshirts were for them and their pets. Customers also liked that it came in different colors, making it easy to select a type that suited them perfectly.
The feature they liked most about the sweatshirts is how easy it is to wash with regular washing machines.
Ferret Decorative Throw Pillow Case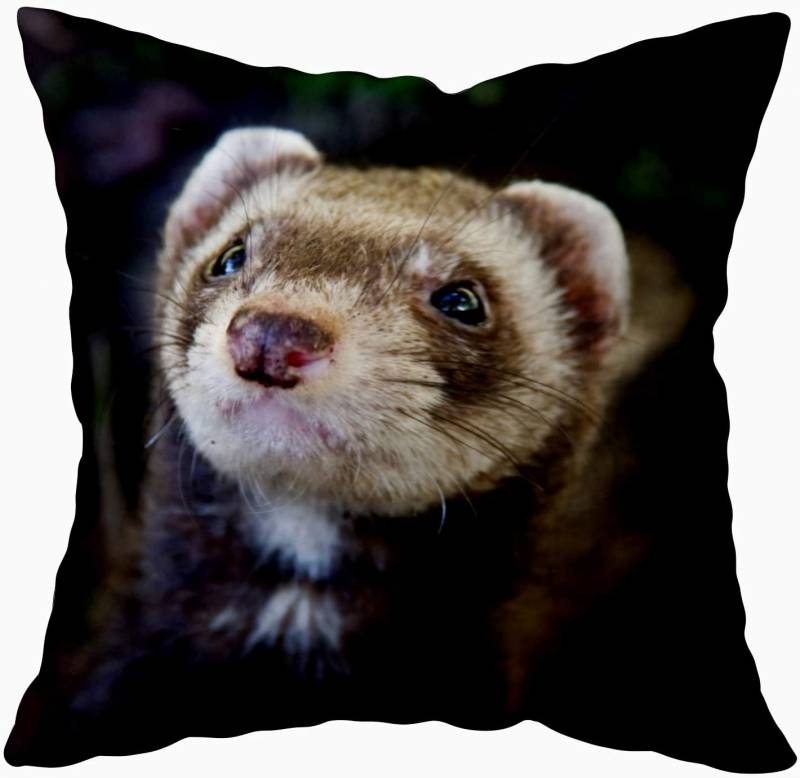 This kind of gift is best given to surprise friends that adore their pets. You can get enough to change all throw pillows in their home to this picture of an adorable ferret.
It is made from premium polyester that makes it lightweight and durable.
It is double-sided, so anywhere you face, the furry fellow is staring right back at you. They are machine washable and can be ironed with low heat.
What We Like About This Product
This product has everything needed for a great gift. It is cute, unique and shows you care about your friends and their pet while helping with home decorations.
The case comes in sizes that fit most throw pillows, so you don't have to worry about not getting one that fits. It is a conversation piece that helps people open up, and it won't be easily forgotten.
Pros:
It is easy to clean and fits most throw pillows.

Made from good materials.

Comes with an invisible zipper that makes it easier to replace the pillows when needed.
Cons:
It gets damaged easily when not properly handled.
Product Reviews
All the reviews on this throw pillow were great. Customers liked the fact that the ferrets' face was printed on both sides of the pillow casing.
They talked about how easy it was to clean and that it fit their home throw pillows perfectly.
Some customers were not happy that it could be damaged if ironed with moderate heat; some advised the creator to change the material used in making the throw pillowcase.
Moon Ferret Necklace
Necklaces are great choices when getting gifts for women; they are fashionable and bring out beauty in people.
This necklace has a ferret and a moon with words inscribed on it. It is a gift you give someone dear to you.
It is enchanting and durable. Your loved ones would be wearing this for a long time. It is great for birthdays and special occasions you want them to remember for a long while.
What We Like About This Product
It is visually appealing and would be a hit with ferret lovers' who like to take their pets with them.
The engraved words on the moon pendant work exceptionally when the lady getting the gift is your significant other, given on her birthday, anniversary, or special occasions that need to be celebrated.
Pros:
It is a beautiful piece that all women would love.

Durable and lustrous.

It comes in a beautiful package.
Cons:
The engraved words are quite small.
Product Reviews
This moon ferret necklace had lots of positive reviews. Customers liked its design and the engraved words on the moon. They praised its manufacturers for the packaging and talked about how easily the necklace blends with their dresses.
Celtic Mink Ferret Earrings
What do you get for the ultimate ferret lover that wants to take their pets everywhere? You get them matching ferret earrings! Celtic Mink comes to the rescue with the gorgeous set that makes ears pop with luster.
This handmade piece is loved because of how simple yet stunning it looks when worn with a lovely dress.
Some people take the ferret as their totem animal, and this earring helps them reinforce that belief, boosting confidence levels and increasing luck.
What We Like About This Product
This has a lustrous yet simplistic design that draws attention to the wearer, informing the public immediately that they love ferrets. It is made from premium materials that are durable, which means they would enjoy wearing it for a long time.
Pros:
Beautiful and lightweight.

It can be worn with most types of clothing.
Cons:
Its color can fade if not adequately stored.
Product Reviews
Most of the reviews for the Celtic Mink Ferret Earrings were positive, they were well-liked by ladies, and most of them agreed the ferret design was just perfect.
Blue Fox Ferret Warning Sign
This is an excellent piece that can be set up at the entrance of your home, hallways, and walls to trespassers warning them your ferret is on guard.
It has beautiful colors that are striking to make it easy to spot when moving close to homes, making it a lovely gift.
You also get to decide the design imprinted on its aluminum with three design choices that make it easy to match your friend's household before you wrap it up as a surprise gift.
What We Like About This Product
It is made using innovative sublimation techniques that protect it from forces that would degrade regular signs, it would fade over time if kept outside, but if kept indoors, it can last for years.
The sign features high-grade aluminum and other premium materials sourced using eco-friendly techniques.
It is a beautiful gift for birthdays and specials celebrations or a housewarming gift that would make everyone laugh.
Pros:
It is made from great materials and is durable.

It is an excellent gift that ferret lovers would cherish
Cons:
It fades with time if not properly stored.
Product Reviews
The Blue Fox Ferret Warning sign is well-liked by ferret lovers. Customers all praised the materials that were used to make the sign.
They talked about its durability and how it fits most décor perfectly. The only complaint by customers was that it loses its color when left outside for long stretches.
Gifts For Fetter Lovers – Frequently Asked Questions
It is normal to have questions about a product before purchase and use, so this section is vital. It is solely for alleviating any concerns owners may have on the products on this guide and any other issue they may have.
Is It Alright To Get Ferret Food As Gifts?
You can decide to get ferret food as gifts, but they are regular items they can always get. Gifts are supposed to be memorable, and pet food isn't that exceptional.
There are many gift options, and when you want to show friends how important they are, more thought has to be put into getting a proper gift.
Are The Ferret Necklaces And Earrings Durable?
It depends on the manufacturer and the type of materials used in making the accessories. Most necklaces and earrings with ferret-themed pieces are made of durable materials like silver, aluminum, and polyester.
These materials are usually of the best quality, and they can stand the test of time.
Must The Gifts For Ferret Lovers Always Be Ferret Themed?
The gifts don't necessarily need to be ferret-themed as long as they are decorative or functional and add value to their life or that of their pet.
Ferret-themed gifts are also lovely if they fall into the same category as all good gifts.
Great gifts should be unique and should always remind them of their pet. When they think of their pet, they immediately remember who got them the gift.
This is why it is essential not to select gifts you like but instead gifts they would like.
Is It Alright To Get A Toy For Their Pet Ferret?
There are many cute toys ferrets can play with, but there are some things to consider before selecting a particular toy.
You have to be sure the toy is made of materials that are not toxic and are safe for play.
You also have to choose an engaging toy that their pet would always want to play with because getting a toy that they never play with is a waste of money.
Can Gifts Made Of Clothing Be Dry Cleaned?
It depends on the type of materials used and the recommendations by the manufacturers. Some gifts can be dry cleaned and machine washed while some are delicate and require only light washing by hand.
Buyers should check the product page before buying to be sure of the type of product and how to take care of it properly.
What Size Of Gift Should I Get?
When it comes to giving gifts, size does not matter. If the gifts are thoughtful and unique, they can be as big as a chest or as small as a mouse.
What matters is that it comes from the heart.
Conclusion
Finding the perfect gift not be a stressful endeavor. You should be looking out for gifts that all ferret lovers would like.
The gifts talked about in this buying guide have been well researched and are sure to put a smile on ferret lovers' faces.
They aren't expensive, but they are specially made for people who love their four-legged pal.
Pet owners need to avoid selecting gifts that are made from materials that may cause harm to their ferret. Finding a food gift should not take up all of your time, and it can also be fun.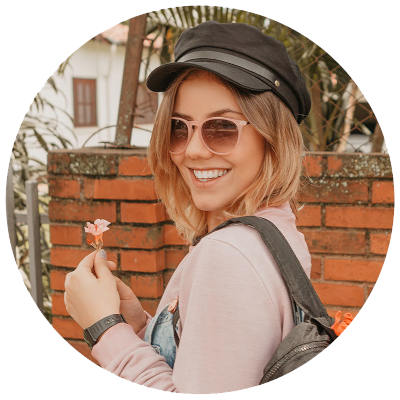 Purrfect n' Pawesome is the brainchild of Amanda, who has been into researching and writing about pets to help other pet parents in nurturing their adorable pets. Currently, she runs Purrfect n' Pawesome along with her team of experienced and dedicated pet experts. Along with being an awesome writer and entrepreneur, Amanda is a cat mom to two innocently spoiled cats, Balanca and Scruffy.
She has been writing about pet care and nurturing and wants to share her readers' experiences, learnings, and knowledge.
Over the years, she had the opportunity to work with various pet owners having multiple breeds, and that exposure gave her experience and the lessons of a lifetime.
Her family, her entire universe revolves around her two cats, who give her endless support and inspiration to move ahead with her objectives in life. Amanda is a live example of a balanced approach to all parenthood questions we all face in life.