Ferrets are playful and social animals. Playing with the ferrets during your free time is fantastic, but for resting and eating, they need a hospitable and comfy habitat.
These furry pets also require affection, exercise, and a homely environment to remain healthy, and this is why you need to choose the ferret cages mindfully.
There are varieties of cages featuring food bowls, ladders, feeders, and toys that can create a safe and playful atmosphere for the ferrets.
From the size of the cage to the safety features, there are various things you need to consider while buying a suitable habitat for your pet.
Thus, if you plan to buy a cage for your furry companions, here are some of the best cages for two ferrets.
Best Overall
Yaheetech 37/52-inch Metal Ferret Chinchilla Cage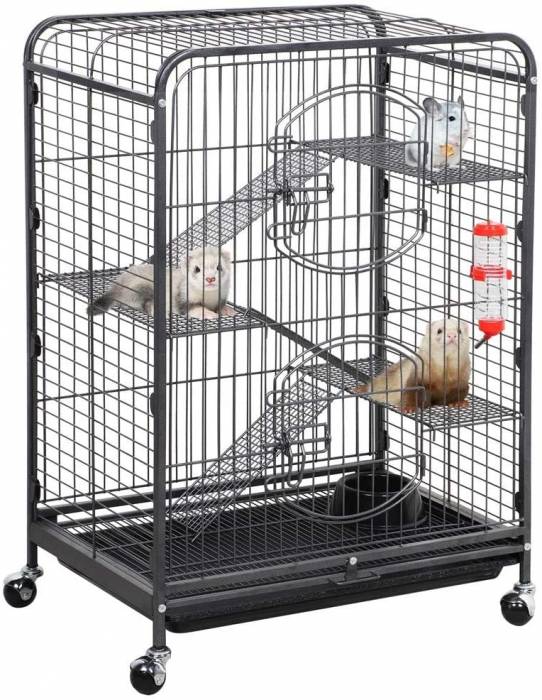 This 37" cage will offer plenty of room to your furry pets for jumping, sliding, and playing. If you are looking for a spacious cage that can accommodate 2 or more ferrets, this is an ideal option.
This sturdy cage is constructed using heavy-duty metal square tubes and is coated with non-toxic paint. The extra-large multi-tiered cage is connected by ramps to prevent falls and offer smooth movements inside the cage.
Plus, the cage is vastly elevated to let your ferrets jump and hop. The cage will not take more than 20 minutes to put up and is assembled effortlessly. Even adult pets can easily slide through the spaces, but the design and wiring of this cage will keep the pets secured in the cage.
Where the heavy-duty cages can cause a dent in your wallets, this one is available at a relatively good price.
Pet owners are often concerned about safety, and this cage is designed, keeping in mind the security of the pets as it features smooth seams and rounded corners to prevent the pets from unnecessary injuries.
Plus, the cage comes with 4 wheels with ball-shaped casters so you can move the cage easily in any direction.
Pros:
The cage comes with a wall-mounted pet bowl and water bottle to feed the pets

It is easier to clean the cage with 2 door design and a slide-out tray

Features a metal grate for easy cleaning and to prevent the pets from laying on the food or dung

A super spacious cage that can comfortably accommodate 2 or more pets

Features 4 tiers connected through ramps for playtime

Installed with 4 durable casters for heavy load capacity
Cons:
Wired Ramps may hurt the feet of your pets

Does not have any side opening for attaching hammocks or food bowls
What We Like About This Cage
Ferrets have soaring metabolism, and they must eat every 3-4 hours to live a healthy and long life. This habitat comes with a food bowl and water bottle, so your adored little pets can eat and drink any time they are hungry.
You can simply fill the food bowl and water bottle at regular intervals, and your pets will enjoy their treats. Added accessories are great, especially when you have to leave the pets alone for a while.
Midwest Deluxe Critter Nation
Your ferrets may not like to share their private space with their companions, and thus, this habitat comes with 2 shelves. It is specially designed for two ferrets and includes 2 pans, 3 plastic ramps, and 2 adjustable shelves for maximum comfort and space.
The maneuverable stand with 4 wheel casters makes it easy to reposition and transfer.
Unlike the other cages, this large-sized cage comes with 2 full-width doors that offer better accessibility and helps you clean the cage thoroughly.
As a responsible pet owner, you should make sure that your ferret feels hospitable in its cage.
Because of the vastness of this cage, the ferrets won't find it confining. This cage is breathable and secure in every possible manner.
It comes with soft ramp covers so your pets will never get hurt. Plus, the cage is protected with a dual lock making it a secure cage your pets won't be able to escape.
Pros:
Promotes trouble-free cleaning with two wide doors

Features smooth feet ramps to prevent cuts and trapping of paws

Elevated design that allows the pets to jump and leap

Adjustable shelves to accommodate small and big pets

Detachable shelves to facilitate quick cleaning

Leak-proof full-width pans for spacious play area

Easy to assemble

Comes at an affordable price
Cons:
Does not come with toys or feeding tools

The plastic tray may crack on long term use
What We Like About This Cage
Unlike the other cages, this cage features feet ramps to prevent the pets from falling and slipping. Its happy feet ramp covers will effortlessly protect critter feet and will keep your pets safe.
As a bonus, the cage is designed with horizontal wires to help the pets climb and play comfortably. The sturdy construction and tube frame ensure maximum pet security making it the ultimate habitat for your little pets.
Prevue Hendryx Black Feisty Ferret Cage
Endow your little and energetic furry friend with this roomy cage that comes with a little hammock and features an exciting design.
The model is 31-inch long, 54-inch high, and 20-inch wide and thus is suitable for 2 medium-sized ferrets. The cage is easy to move with its 4 wheels while the plastic ramps are made using heavy-duty material to support the weight of your pets.
The four levels of play space will let your pets have fun with their companions. Ferrets are well known for getting into trouble and injured, and thus, this cage features plastic trays and ramps so the paws of the pet won't get stuck or injured.
With the wired ramps, the pets can easily injure themselves, but with these plastic ramps, safety is definite.
The ramp is designed to provide a better grip and help the pets jump from level to level. For your ferrets who like to keep exploring the cage repeatedly, this is a durable and safe habitat.
Pros:
The heavy-duty construction of wrought iron

Comes with an easy-clean storage shelf and movable wheels

Removable debris tray to keep the cage clean

Its middle floor separates the cage to create 2 separate space for 2 or more pets

Hinged heavy-duty escape-proof doors

Very easy to assemble

Comes with a separate tray for toys and food items

High-quality, durable casters

Spacious and airy space for the ferrets

Lightweight and sturdy
Cons:
Hard plastic ramps make maneuvering difficult

Wire flooring may injure the pets
What We Like About This Cage
If your ferrets are highly energetic and often escape the cages, this is the cage that comes with 2 large escape-proof hinged doors. The other attribute that makes this cage unique is the little hammock that will help your little pal have some rest and swing.
So if your pets are super energetic and love playing, they deserve this spacious and comfy cage. In fact, after a fun session outside the cage, they will instantly crawl back to this warm cage.
Kaytee My First Home Deluxe 2×2 Multi-level With Casters
What can be better than this multi-level and playful habitat for your adorable ferrets? This large and spacious cage is ideal for those mischievous and frisky ferrets that love to play, cuddle, and sleep peacefully.
The cage features a heavy-duty chew-proof coated metal that prevents the cage from damage and keeps your pets safe inside, leaving no room for escaping.
Its scatter less base is easy to clean and can be replaced quickly. Your ferrets need a good amount of space when they are active, and this cage will facilitate them with all the space they need!.
With the durable and deluxe caster wheels, you will be facing no issues while moving the cage from one location to another.
On the other hand, the 1-inch bar spacing makes it secure and ventilated. If you don't want your pets to escape the cage, this is the ideal cage that will offer a better air supply and hold your animals.
Pros:
Features a colorful and vibrant design

Multi-tier cage for accommodating 2 or more ferrets

24x24x41.5 inches spacious cage for ferrets

Scaterless base makes it easy to clean

Comes with a cozy and relaxing hammock

Comes with 3 comfort shelves and removable casters

Chew-proof construction

The unique accessories make it more welcoming and pleasant

Chew-free design
Cons:
The plastic ramps and racks may fall apart after long term use

The base is slightly hard to clean
What We Like About This Cage
The highlighting element of this cage is its design and construction. Unlike the casual cages, this habitat is designed with multiple tiers with casters. The cage features safety ramps, a thrilling spiral slide, a fun funnel, a cozy hammock, and 3 comfort shelves that'll make your pets feel like at home.
Plus, its stain-resistant plastic and wired construction make it more durable and chew-friendly. The accessories that come with this cage are engineered to offer a comfortable and snugly environment to your loved pets.
MCAGE 3 Levels Ferret Cage
Here's another small-sized chew-free cage you can consider for your little pets.
The 24x16x24 sized cage has 3 levels and is designed with tight 3/8 inch crossbar spacing ladders and wires shelves to prevent escaping and injuries.
The spacing is ideal for small or adult-sized pets, while the large cabinet-style doors make cleaning easy and comfortable.
Also, don't underrate the ability of your pets to open the cage door as they can quickly push the door open and escape. This cage comes with a ferret-proof latch to prevent your pets from escaping.
The slide-out bottom pan is designed for easy cleaning and keeping the pets safe from droppings and litter, while the large-sized doors will help you feed the pets in a hassle-free manner.
This might seem like a small cage, but it has a generous space for the animals to play and hop all day. Also, the cage is enameled and does not consist of lead or any toxic coating that can harm your pet even when it tries to chew off the wires.
Pros:
Comes with two easy-grip handles

Features animal-friendly epoxy coated finish

Foldable and travel-friendly design

Can be assembled quickly

Has a tight 3/8 inch crossbar spacing

Front doors are large and convenient for feeding the pets

Comes with a slide-out ray for hassle-free cleaning

Foldable design for traveling
Cons:
Does not have wheels for easy transfer

Does not have any hammocks, food, or water bowls
What We Like About This Cage
This cage comes at a very affordable price compared to other options and is spacious enough to hold 2 ferrets. Ferrets are sleepy creatures, and this cage offers a spacious and cozy environment to promote better sleep.
The cage has wide ramps on which soft bedding or hammocks can be installed.
Also, as the cage is not very high and the levels are at a lesser distance, so the pets can easily hop from one level to another without hurting themselves or falling. The ramps at each level are removable so you can pull out the ramps when your pets require more free space for their playtime.
Homey Pet-3 Or 1 Tiers Chinchilla Ferret Rabbit Small Animals Crate With Pull Out Tray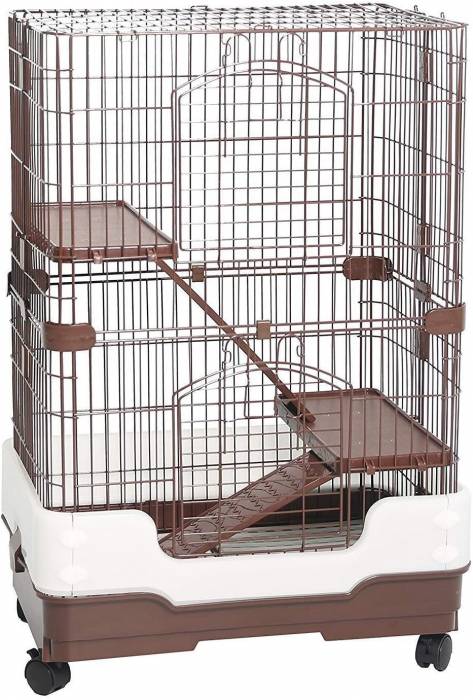 Ferrets generally sleep for 16-20 hours a day, and thus, they need a calm and peaceful cage to sleep. This two-tiered ultra-long cage will make a perfect habitat for your ferrets if they require their sleeping and playing space.
The cage features plastic ramps and shelves that will prevent the paws of your little friend, while the two arched doors with tight latches will also prevent the animals from escaping.
With the overall size of 27x19x10, this cage will comfortably accommodate both your ferrets.
This cage not only offers great space and play area for our pets, but it also takes care of the health of your pets and prevents unnecessary mess.
It has plenty of space and can comfortably accommodate bedding, food/water bowls, litter boxes, and toys for the pets.
The other plus point is that the cage has shelves with great weight-bearing capacity and, thus, can hold your grown or little ferret easily.
Pros:
A pull out tray is assembled in the bottom to prevent the pets from stepping on dirt

Features lockable casters for moving the cage conveniently

Comes with a new plastic floor grid design to prevent your pet from getting injured

You can easily install it without any tools or equipment

Features tiny 0.5" bar spacing to prevent the pets from escaping

Comes with buckles for connecting the base and frame easily

Clips are available for securing two frames together and also to keep the cage stable

The cage doesn't stink or remain messy due to easy-cleaning options

Anti-rust or anti-corrosion wires with a non-toxic coating
Cons:
The lower drawer is shallow

Plastic base may wear easily
What We Like About This Cage
This cage grabs the attention for all the right reasons, but the best part about this unique-looking cage is that it comes with a urine guard.
If you are facing troubles keeping your cage clean and smell-free, this cage features a huge urine guard that makes cleaning more comfortable and also maintains your pet's health. It also has a plastic mesh so your pets would no more step onto dirt or droppings.
The cage has well-organized areas for bedding, eating, and playing, so you don't have to worry about your pets stepping or sleeping on litter or droppings while with the urine guard, you can clean the cage within minutes.
It creates a hygienic and safe atmosphere for your ferrets.
Ferret Cages For Two Ferrets – FAQ
What kind of cage is right for two ferrets?
If you have a single ferret, you can choose a single or two-tiered cage, but if you have two or more ferrets, you will need a multi-tier cage that allows the ferrets to play.
Ferrets are highly social and enthusiastic pets, and they require more space. Pick a cage that is at least 34 inches wide and 24 inches long.
A removable tray for cleaning is highly recommended if you want hassle-free cleaning. Also, make sure that the cage has comfy ramps and is constructed keeping safety in mind.
Are ferrets cage animals?
Yes.
Ferrets should be kept in cages, just like rats and other pets, for their protection. Ferrets can create a mess if not kept in a cage. A spacious and adequately ventilated cage is ideal for ferrets.
The ferrets need exercise and are very playful and, thus, choose a cage that is spacious and has ramps and multiple tiers for hopping and leaping.
You can also add bedding, food containers, and litter boxes to the cages. Also, make sure that the ferrets spend around 4-5 hours outside the cage every day.
Do ferrets need bedding in the cage?
Just like any other pets, ferrets too need a comfortable and cozy sleeping environment. These days, there are plenty of cages that offer a little hammock or bedding area for pets.
To provide them with good sleep, choose a cage with a hammock or a floor where you can accommodate a soft bed for your loved pet.
How to choose the best cage for two ferrets?
Apart from the design and spaciousness, there are several other things you need to keep in mind while choosing a cage for your ferrets.
Ferrets can easily escape the cages, and thus, you will have to choose a cage that has hinged and dual-lock doors. The ferrets can also escape through the walls, so make sure that the cage you choose has narrow and thin wiring.
Plus, the ferrets can easily get injured or stuck on the wired floors or ramps, and thus, make sure that you choose a cage with plastic ramps or use ramp covers to prevent any injuries.
What do ferrets need in their cage?
The cages for ferrets should have levels so they can eat, sleep, and poop without creating a mess. A warm and cozy hammock is needed to help them sleep better, while a litter box will prevent the ferrets from jumping on the droppings and waste.
The cages also must have food and water bowls to feed the little pets in the cage, while some toys will help them stay cheerful.
With these essential items, your loved pets will be happy in no time!
See Also: How Long Can A Ferret Survive Without Food Or Water?
Do ferrets escape the cages easily?
Ferrets can escape from relatively narrow spaces, and thus, it is vital to choose a cage with thin wires.
Also, make sure that you choose a cage with a proper locking system and a secure locking latch to prevent the ferrets from escaping.
Conclusion
It is a great idea to have some pets around, especially if you have little kids in your home. Ferrets, in particular, are adorable and playful little pets. If you plan to adopt ferrets or already have one or more ferrets, make sure that you choose a cozy and spacious habitat for them.
The cage you choose for them should make them feel at home and should have all the basic things they might need.
Keep in mind that they require proper sleep, food, play area, and rest and, thus, invest in a cage that is adequately ventilated and is spacious enough to make your pets feel restful.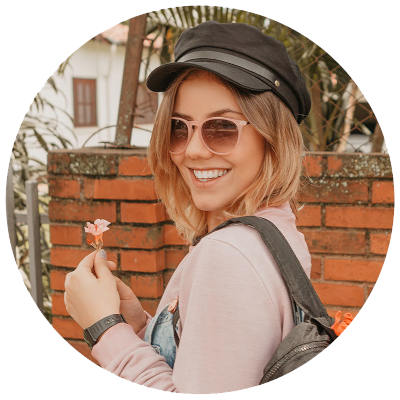 Purrfect n' Pawesome is the brainchild of Amanda, who has been into researching and writing about pets to help other pet parents in nurturing their adorable pets. Currently, she runs Purrfect n' Pawesome along with her team of experienced and dedicated pet experts. Along with being an awesome writer and entrepreneur, Amanda is a cat mom to two innocently spoiled cats, Balanca and Scruffy.
She has been writing about pet care and nurturing and wants to share her readers' experiences, learnings, and knowledge.
Over the years, she had the opportunity to work with various pet owners having multiple breeds, and that exposure gave her experience and the lessons of a lifetime.
Her family, her entire universe revolves around her two cats, who give her endless support and inspiration to move ahead with her objectives in life. Amanda is a live example of a balanced approach to all parenthood questions we all face in life.