A dog is a man's best friend – you must have heard that one a lot, but really, have you been a good friend to your dog lately? I HOPE SO…
People worldwide search for things that may help them give their pets a better life. Bringing up a dog can be as tricky as bringing up a child. You need to be very careful about their diet, sleep, health, and above all, residence.
Therefore, a kennel can be more protective of your dog, especially when you are not around. This becomes exceedingly important when rains pour, and your dog has nowhere to hide except his house.
Likewise, if a dog doesn't have a healthy lifestyle, it will undoubtedly fall prey to infections or seasonal diseases.
If we are speaking so, what could be better than giving your dog his own house? Yeah, it sounds great!
Here are some of the best dog houses you can buy right now without giving a second thought… Just make sure you select based on your actual needs.
Best Overall
Petmate Precision Extreme Outback Log Cabin.
Introduction And Features
Designed and manufactured by PETMATE, this durable cabin is a good option if you are looking for a permanent dog house.
With stainless steel and wood assembly, this cabin is ready for usage in any weather conditions such as heavy rain.
The cabin follows a three-step assembly and comes with walls, floors, and a roof panel. Unlike other plastic or steel dog houses, this cabin feels premium with a sturdy roof.
If you put in some extra insulation, you will get an even better assembly. It is recommended to put together the whole thing without the roof and then add the insulations.
The cabin is very spacious, and it will certainly fit any small-medium dog breed. However, Petmate has four different sizes available.
This dog house's major construction is a stainless-steel frame that is highly corrosion resistant to save it from rusting. So, you can expect a longer lifetime.
Pros:
Easy to use for the dog
Spacious
Durable
Reliable
Excellent Build Quality
Rain Resistant
Cons:
Not insulated
Cannot support heavier pets for extended periods
Mediocre Quality Roof material
User Insights
It is a really simple product, and there is no rocket science behind its entire setup. The application of this dog house is not only indoors but outdoors as well.
Although the company renders the product waterproof, it can't withstand heavy rains as the walls have significant spaces that may allow water to enter the dog house.
Moreover, there are no water outlets in the entire dog house, making it harder to clean.
However, it is perfect for use if you put it together as instructed in the manual. Also, it'll be even better to add some extra insulation to protect your pet from cold and extreme weather.
The dog house also has an easy to enter door, so your pet won't have any trouble getting in and out of his house.
This dog cabin's major component is wood; therefore, it should be respected and used within its limits.
The roof usually lasts a long time and is relatively dense. Unfortunately, the company has not included any other safety measures to save the cabin's integrity in case of a leak other than the roof and a slightly higher floor.
Any water that goes into the cabin can permanently damage the wood structure and render it useless.
Therefore, it is recommended to be used in Gardens or Backyards where water is not incident on the dog house.
The setup process is very easy, and you are not required to have any sort of tools for its installation; just read the manual and get it done.
The dog house is very spacious and comes in four different sizes from the manufacturer, so you won't have to trouble yourself with finding the right fit, etc.
Conclusion
All in all, this wooden dog house is recommended for home users and habitual pet owners who want to achieve aesthetic looks in their garden or save their pets from rain efficiently.
However, its use is justified but not limited to the outdoors. You can also use it indoors or something like that. It is a beautiful pet cabin that can be used in many places for several purposes.
Trixie Classic Outdoor Wooden Dog House

Introduction And Features
TRIXIE provides most of the impressive pet care goods in the market. The company has always focused on the actual difficulties and challenges their products face while in the consumer's hands and modifies its products to overcome the barrier between man and machine.
This wooden dog house is yet another masterpiece from the company that provides many value-added features to its users.
It includes a highly durable wooden frame that is also rainproof. However, the cabin is claimed to be made from water-resistant wood by the manufacturer.
This dog house helps users get rid of rain problems for their pets. TRIXIE should have added a Teflon protected layer that can keep the dog kennel safe from harshness and constant usage it may face per month, day, or even in a season.
All-inclusive, these features make TRIXIE's dog house one of the best options to choose from. Additionally, there are five different sizes commercially available, so you have a variety to choose from.
Pros:
Premium Build
Tough Make
Wooden make
Rain resistant
Cons:
Requires Replacement Woods
High Potential for Mold Development
No Teflon Protection
User Insights
This dog house is suitable for people with mid-level or non-humid weather in their surroundings. It provides proper rain protection and has a rainproof assembly.
Since wooden dog houses are a perfect fit when used with Teflon protectors or similar paints that ensure weather withstand-ability and helps the dog house to reach the full potential of its work.
This dog house is made of hardwood and crafted well enough to deal with an average garden's atmosphere, even in the worst of weather.
Nonetheless, the dog house can be used indoors as well; however, you'll need to make a considerable space as the dog house is quite big and rests about 4 inches above ground level.
It is a little bit tricky when setting the dog house upon, but once you get the job done, it should last you a lifetime if you respect the cabin in terms of usage.
Therefore, you should properly clean and preferably paint the dog house to save it from falling apart.
On the other hand, the installation process is straightforward, and the cabin provides a tight fit on all corners.
This saves the water spills even from above and helps the dog house provide a dry experience to your pet.
You might need a complete set of manuals provided with the dog house and some extra tools like screwdrivers.
The wood of this dog house is a tough one, but like all the woods, it swells rapidly if it is not protected with paint or Teflon and kept in a moist environment for extended periods.
Therefore, you might need a couple of replacement boards to last even a season.
You'll have to keep a manual track of everything to troubleshoot, provided you find any issues in its usage.
The wood, being a natural component, helps you create some aesthetics. That could be essential for some people, especially if your secondary goal is to decorate the dog house's locale.
So, it helps you manage your pet's needs if you think technically and have been dealing with rainy weather for a while.
Conclusion
In the end, TRIXIE's dog house is a perfect cabin to use for your furballs. The cabin helps keep your pet safe from rain and windy weather.
Petmate Barn Home Iii Dog House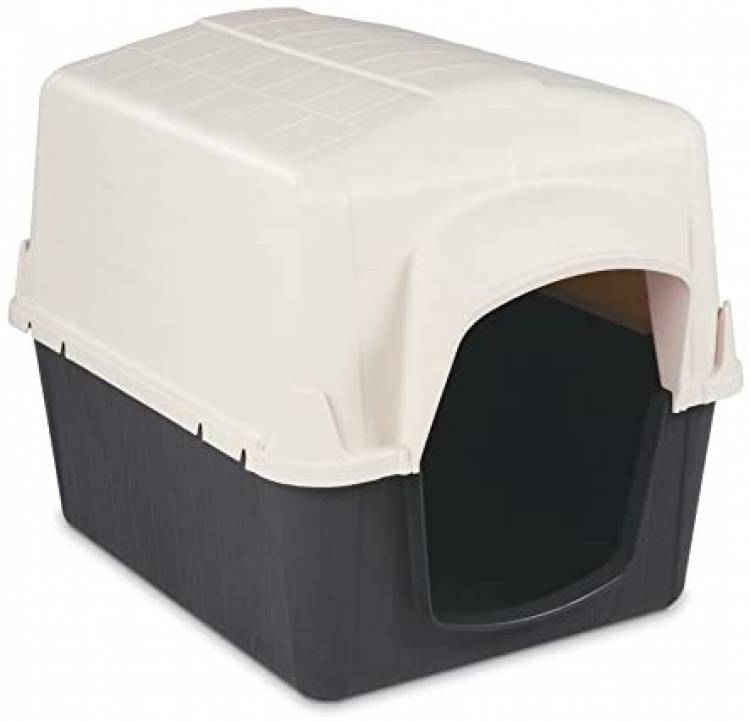 Introduction And Features
Manufactured by Petmate as well, this third version of their Barn House series is another reliable dog house that can help you save your pet from that rainy backyard.
Unlike wooden dog houses, this dog house has a barn-themed plastic make.
Although wood is preferred to plastic, the Petmate's barn house's quality and weight are better than expected.
It is very sturdy and comes in two colors; red and white.
You'll need to set up the dog house manually, but it is not a big deal as you'll probably receive it already assembled.
It uses a two-piece assembly system. It also features an easy working principle combined with a rugged and waterproof housing that ensures an excellent user experience.
The housing can handle a 15lb pet easily and is claimed to be long-lived.
It is easy to install, so no problems in its usage should be expected if you use it carefully.
Pros:
Easy to use
Long-lasting
Simple Installation
Waterproof
Sturdy plastic
Cons:
Clipping parts are more breakable
User Insights
This barn house is a delicate one in terms of its side-clippers and should be handled carefully because a strong force can break this thing.
It is not meant to be used for powerful and heavy dogs but can provide a good experience when used with smaller cats and dogs.
Petmate's dog house is a simple barn-themed home for your pet that provides you the utmost results with excellent value for money.
You can rest assured of water entering your dog's barn or keep an eye out to check if any water has breached, but the result will always be the same; the barn house will handle everything.
There are no shutting doors, so you'll have to add some sheets or cardboard doors yourself – if you prefer.
The house is shipped wrapped with the bubble sheet, in case you might need them to use as insulation materials for sub-zero temperatures.
Also, the length and size of the dog house are decent, so you don't need to worry about its capacity as well.
Conclusion
It can be recommended for normal indoor and outdoor use because of its relatively low price and better results.
For use in the simplest of the gardens to rainy seasons, with freezing temperatures, this barn house from Petmate would do more than just fine.
Suncast Outdoor Dog House With Door
Introduction And Features
The tough and premium Suncast Outdoor Dog House can easily make it to the list of some of the best dog houses out there waiting to inhabit your fur balls and protect them from rainy weather.
This dog house, unlike ordinary dog cabins, can be used at many other places where normal wooden dog houses will not survive a day.
There are several features on this dog house, and each of them can be an outstanding feature to have. Additionally, the plastic-build feature makes this dog house as suitable for indoor usage as outdoor.
For domestic usage, this dog house can more than suffice and in all types of weather. It is waterproof and has an additional door supplied in the box.
The dog house provides excellent results and is perfect to use for different projects like designing attractive housing for your pets and whatnot.
Pros:
Good Quality
Durable
Well-fitting Design
Waterproof
Additional Door
Cons:
Comparatively Expensive Plastic Dog house
User Insights
This dog house is not aimed at homeowners who only want a wooden-themed dog house.
The installation of this dog house is a bit tricky and might require you to have specific tools for proper setup.
Once ready to go, this dog house can keep fulfilling its purpose for a very long time.
Suncast has aimed its dog house to function in a more diverse and wide area of operation. The hard-built and durable design of this dog house enables it to work from coldest to hottest environments.
The dog house is very efficient in terms of rainproofing and provides a strong hideout from rain. It also has a beautiful design that makes it attractive for small and large-sized dogs.
The major material used in the dog house's construction is resin, and the door is made of vinyl.
While this combination is not much insulating, it'll certainly face off any weather conditions this dog house may face.
Therefore this dog house can be safely used outdoors and indoors without any fear of environmental degradation.
If you add some extra insulation, this dog house will be the perfect hideout for winters and summers alike.
Conclusion
All in all, this dog house is recommended to be used for people who want a workable and fancy dog cabin in their backyard.
The set of features this dog house provides can charm only those who need them in their gardens or homes.
Our Pets Tuff-n-rugged Dog House
Introduction And Features
Pet Zone's Our Pets Tuff-N-Rugged Dog House features a full-fledged plastic-based chassis, and a premium build.
This not only provides it with long life and extreme durability but also the usage of plastic instead of wood makes it water-resistant.
Also, the dog house is made entirely waterproof with double walls, which ensure its insulation and resilience.
The dog house looks cool in winter, and the proper arrangement for ventilation makes the ambiance even better.
It's nice and quiet, and it can also accommodate dogs up to 125 pounds. It helps the environment wherever it is used almost perfectly.
The dog house uses a simple setup process, so tools are not required to put it together.
The dimensions of this dog house are 27 ¾" H x 27 ¼" W x 36 ½" L, which is quite enough.
The size of Pet Zone's Tuff-N-Rugged Dog House enables it to be effectively used for indoor applications and outdoors. The dog house also includes a detachable roof for ease of cleaning.
Pros:
Innovative Design
Larger Area
Easy Cleaning
Good Waterproofing
Premium Build
Portable
Cons:
A few tugs at the right spots can easily disassemble
Breakable joints
User Insights
It must be noted that this dog house's life directly depends on how well it is taken care of. If you use dirtiness and abuse the dog house, it will have a hard time lasting you even for one rainy season.
The main theme of this dog house is to be robust while being portable.
That is why it is incredibly lightweight compared to other dog houses and still powerful enough to accommodate your dog very quickly.
Thus, using abusive disassembly will only reduce the life of this dog house, and you'll end up losing it.
So, to avoid some extra billing, take it apart and put it together carefully.
Especially the joints!.
In one line, this dog house can be an advanced option for a garden/household pet, and it is relatively easy to use and enjoy for the dog as well.
The rear has a little sliding window up at the roof to let air circulate. It's all very lightweight, making it "portable."
Instructions are proper except for the installation time of the roof, which has no information about what-so-ever.
This is critical to understand if you're going to be keeping the dog house usable for a long time to properly secure the joints of all the parts.
For the roof, it becomes exceedingly important as it will be taken off several times for cleaning purposes.
If you end up breaking one joint, the balance of all other joints will be disrupted, and you'll eventually end up with all the broken joints. Therefore, handle the joint part carefully.
For added waterproofing, you can use five pieces of duct tape on all the joints – it is if you think your pet will stay outdoors.
Frequently Asked Questions
These questions might pop in your head,
Why Do Dogs Need A Dog House To Protect Them From Rain?
If your dog is sleeping outside, a good quality kennel to allow him to hide away from the rainy weather is much needed. A kennel should shelter your dog from harsh wind, rain, and the cold.
Dogs require this protection so that heat is not drawn away from their body by rainwater.
How To Keep My Dog House Clean In Rainy Season?
To keep your dog house clean, you should clean it on a timely basis and add some cleaning measures such as a plastic sheet. Plus, you should always use clean water.
Using dirty water will only worsen things for you, and you'll end up with a messed-up dog house eventually.
Also, using dirty water can contaminate and reduce the life span of the dog house.
How Do I Select The Right Rain-Protected Dog House?
Start with your needs. Once you have a clear idea about what to buy and what to expect from a dog house based on the rain you are experiencing, you can go ahead and choose the right one.
However, you can buy a commercial-grade dog house for some demanding applications like multiple dog hideouts or simply a luxurious dog estate, etc., for added rain protection.
Will Dog Houses Carry Anti-Fungal Coatings?
Water droplets from the rain that enter a Dog house will carry anything that the surrounding environment contains. This includes fungus and mold, as well.
Therefore, for most dog houses that are expected to withstand rains, it is recommended to use either anti-mold measures of Teflon to add weather sustainability.
Normally, this allows for excellent results if used in a dog house.
How Much Teflon Is Required To Make A Wooden Dog House Withstand Heavy Rain?
A wooden dog house should be entirely covered in Teflon to protect the wood from rain. Typically, dog houses require around 160-180 ml for a single coat. However, this may vary from manufacturer to manufacturer.
On a better note, you can ask if your provider can cover a wooden dog house with paint or Teflon. This way, you can save some effort for a little amount of cash.
How Can I Stop Ground Level Rain Water From Entering The Dog House?
Rain splashing is a troubling side-effect of dog houses. It happens when rainwater enters the dog's house.
However, you can easily get rid of it by simply adding more height to the base of the dog house.
This is a temporary solution for splashing water into the dog house, and it might start up again when the water level rises.
So, it is advised to keep the water level in check to know if it is not entering the dog house or simply increasing the height of the dog house.
Is A Dog House Cruel For Dogs In Rainy Or Cold Weather?
A dog house is essentially a shelter for a dog from rain and cold weather, so there's nothing inherently wrong with having one for the dog.
Should Dogs Live Inside Or Outside During Rainy Weathers?
If you are interested in doing what your dog prefers, do not force all dogs to live inside all of the time, especially in the rainy season.
Both things are just as cruel as locking them in a crate at your convenience. It is okay to leave dogs outside in the rain since they like it, but not if they show any sickness.
Conclusion
Since dogs feel just as much as we do, forcing them into something they don't want to do would be inhumane. Like, for example, living at the end of a rope. There, they have no protection from the rain.
They require proper kennels to live and grow. If you take care of your pet, it will most certainly take good care of you.
All-inclusive, a good dog house is sometimes worth more, especially if you live in a harsh climate.
If dogs are left open in the rain, they are more likely to fall prey to sickness. Such conditions, if prevailed, lead to death.
So, a good dog kennel must be chosen for your dog so that he can be kept away from harsh climates and has a place he considers home.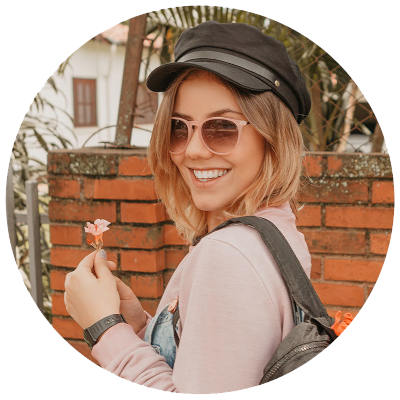 Purrfect n' Pawesome is the brainchild of Amanda, who has been into researching and writing about pets to help other pet parents in nurturing their adorable pets. Currently, she runs Purrfect n' Pawesome along with her team of experienced and dedicated pet experts. Along with being an awesome writer and entrepreneur, Amanda is a cat mom to two innocently spoiled cats, Balanca and Scruffy.
She has been writing about pet care and nurturing and wants to share her readers' experiences, learnings, and knowledge.
Over the years, she had the opportunity to work with various pet owners having multiple breeds, and that exposure gave her experience and the lessons of a lifetime.
Her family, her entire universe revolves around her two cats, who give her endless support and inspiration to move ahead with her objectives in life. Amanda is a live example of a balanced approach to all parenthood questions we all face in life.